Mercyhurst hosts book signing for debut novel of Deborah Goodrich Royce
Wednesday, September 18, 2019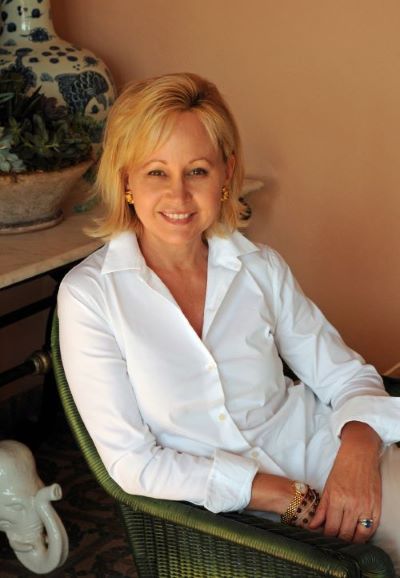 Many fans will remember Deborah Goodrich Royce in the leading role of Silver Kane, sister of the legendary Erica Kane, on the long-running ABC soap opera All My Children.
But that was merely a launching platform for the woman who went on to star in feature films such as Remote Control, April Fool's Day, and Just One of the Guys; television movies such as Return to Peyton Place, The Deliberate Stranger with Mark Harmon, and Liberace; and television series like St. Elsewhere, Beverly Hills 90210, and 21 Jump Street.
Royce, a longtime friend of Mercyhurst University President Michael T. Victor, will visit Mercyhurst on Monday, Oct. 7, when she will share highlights of her career with the college community and do a reading and book signing of her debut novel, Finding Mrs. Ford, released earlier this year. The event, which is open to the public, is in The Waterford Room of Ryan Hall at 10 a.m. 
Finding Mrs. Ford already has achieved considerable attention by being named:
One of the five must-read summer mysteries for 2019 by forbes.com
One of the top 10 summer reads of 2019 by Good Morning America
One of the top 50 summer books of 2019 by Book Riot
Victor met Royce when he was president of her alma mater, Lake Erie College, from 2006-2015.
"Despite her fame and many successes, Deborah is an easy conversationalist and very approachable," Victor said. "I am grateful that she has agreed to share her career highpoints and her widely acclaimed book with us."
After the birth of her daughters, Royce moved to Paris in 1992 and worked as a reader for Le Studio Canal Plus. On her return to the U.S., she transitioned to Miramax Films as its story editor. At Miramax, she worked on the development of such films as Emma, The Englishman Who Went Up a Hill But Came Down a Mountain, Walking and Talking by Nicole Holofcener, and early versions of Chicago and A Wrinkle in Time. With writing partner, Mitch Giannunzio, she won a grant from the Massachusetts Arts Council in 2002 to develop their original screenplay, Susan Taft Has Run Amok.
In 2004, Royce and her husband, Chuck Royce, restored and reopened the Avon Theatre Film Center, a 1939 landmark in Stamford, Connecticut. The not-for-profit Avon is dedicated to independent, classic, foreign, and documentary films, and hosts an ongoing series of visiting film luminaries. Directors and writers such as Robert Altman, Peter Bogdonavich and Nora Ephron, and actors such as Jane Fonda, Chole Sevigny, Emma Roberts, and Richard Gere, have all come to the Avon to show their films and talk about their work. The late Gene Wilder, who frequently appeared at the Avon, was an early and avid encourager of Royce's writing. 
Royce serves on multiple boards, including the national council of the American Film Institute, the executive board of the Greenwich International Film Festival, and the governing boards of the New York Botanical Garden, the Greenwich Historical Society, and the PRASAD Project. 
The Royces have restored several hotels, including Ocean House, one of only 13 triple Forbes five-star properties in the world, a bookstore (The Savoy in Westerly, Rhode Island), and have completed numerous Main Street revitalization projects in Tannersville, New York, and Westerly, Rhode Island. 
She and her husband have a tribe of children, stepchildren, grandchildren, and animals.