Mercyhurst hosts 60 city school students at virtual coding camp
Monday, June 15, 2020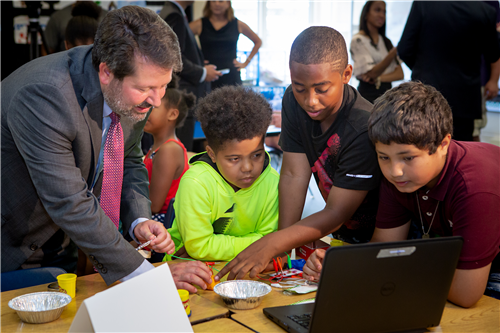 An estimated 60 K-12 students from the Erie City School District are participating in a virtual two-week coding camp sponsored by Mercyhurst University beginning today.
Students will be immersed in computer games and e-sports, through which they will learn concepts like loops, functions, arrays, and more – the same transferable skills used in building consumer software applications.
This is the second year for the coding camp, which was held at the university's MCPc Cyber Education Center last summer. Because of COVID-19 restrictions, this summer's camp is being held virtually.
The camp is funded through a PAsmart Grant of $500,000, which was awarded in 2019 to the Erie City School District in partnership with Mercyhurst and the Erie Innovation District, to develop an integrated K-12 computer science curriculum that will prepare students for in-demand careers in the digital economy.
The grant provides the foundation for a K-12 computer science college and career pathway for more than 11,000 students in 16 schools. The coding camp is one piece of that initiative.
Mercyhurst Provost Dr. Leanne Roberts said the project addresses the university's longstanding tradition of partnering with local school districts and of its commitment to stay positioned on the front side of the innovation curve.
"We are dedicated to opening doors to college and career opportunities that many school-age children would not know existed, and to help build a workforce pipeline to fill an increasingly large demand in computing and other technical fields," Roberts said.
Only 35 percent of high schools in the U.S. teach computer science, according to the 2018 State of Computer Science Education: Policy and Implementation. That, in comparison to the fact that computing makes up two-thirds of projected new jobs in STEM (Science, Technology, Engineering, and Math), and that computing occupations are among the highest-paying jobs for new graduates.
In Erie, computing jobs are projected to grow at a rate of 9.1 percent, significantly faster than the 5.1 percent growth expected for all jobs, according to 2014-2024 projections published by the Pennsylvania Department of Labor & Industry Center for Workforce Information & Analysis. Jobs in the sectors that are growing the fastest require at least a high school diploma and some technical certification. National estimates show that as high as 85 percent of future jobs will require some computing skills.
FILE PHOTO: Erie Schools Superintendent Brian Polito checks in on students at last year's coding camp.