Mercyhurst honors distinguished alumni during Reunion Weekend 2019
Wednesday, June 12, 2019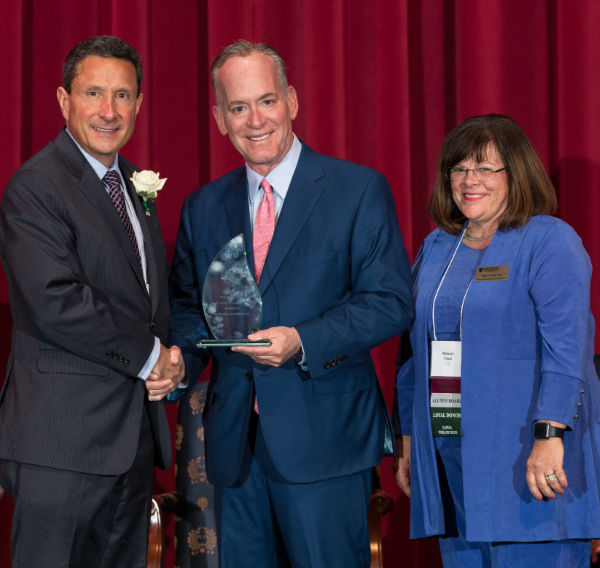 Mercyhurst University presented awards to six Distinguished Alumni on June 8, including the Sister Carolyn Herrmann Award to the Honorable Richard A. Lanzillo, the former chair of the Mercyhurst Board of Trustees who was named a federal Magistrate Judge last year.
The award presentations highlighted Mercyhurst's 10th annual Reunion Weekend, which drew hundreds of alumni back to the Erie campus June 7-9. Receiving awards for Outstanding Achievement in a Chosen Field were Gary Calabrese '79, Stephen Callaghan '79, Suki Fuller '06 and Nalika Nanayakarra '94. Maria Figurski Wells '06 was recognized for Outstanding Service to the Community.
In addition, the Mercyhurst Athletic Hall of Fame inducted the 2011 national championship men's lacrosse team; lacrosse player Breanna Haggerty Bertolini '09; field hockey player Emily Warren Zimmer '10; and football and lacrosse player Ian Wild '12.
The anniversary classes of 1959, 1964, 1969, 1979, 1994, 2009, and 2014 held special gatherings during the weekend. The 50-year class of 1969, which was the first Mercyhurst class to include a male graduate, presented President Michael T. Victor with a check for $25,000 to establish the Class of 1969 Endowed Scholarship.
About the honorees
Judge Lanzillo earned Mercyhurst's highest student award – the Carpe Diem Award – when he graduated in 1983. He graduated from the University of Pittsburgh Law School in 1987 and practiced for more than 30 years with Erie's Knox, McLaughlin Gornall & Sennett law firm before his judicial appointment. Elected a Trustee in 2003, he co-chaired Mercyhurst's presidential search committee in 2015 and had chaired the board since 2016.
Gary Calabrese went on to earn another bachelor's degree in physical therapy from Cleveland State University and a doctorate from the University of Montana. He's now the Senior Director for Sports Health and Orthopaedic Rehabilitation at the Cleveland Clinic, where he supervises more than 900 employees and facilities around the world. He has worked with all of Cleveland's major league teams, including 22 years as team physical therapist with the Cleveland Cavaliers.
Stephen Callaghan had a 20-year career as a naval aviator, retiring as a Commander, and earned a master's degree in national security and strategic studies from the Naval War College. He later joined Lockheed-Martin Corporation and directed its F-35 and Naval Aviation Programs. Following a stint with Sikorsky Aircraft, in April he returned to Lockheed-Martin Aeronautics, where he's now in charge of business development for the F-35 Program.
Suki Fuller has been a competitive intelligence advisor in the automotive, pharmaceutical, technology and defense industries and founded her own business, Miribure. Since 2015, she has become known for her work mentoring entrepreneurs, including many women, in the fast-growing tech industry. She has recently entered the venture capital field as co-founder and CEO of Salaam Ventures, and continues to be a noted public speaker and trainer.
Nalika Nanayakkara earned her MBA in finance and management from Columbia University. After positions with Bank of Tokyo-Mitsubishi and Capgemini, she joined EY (formerly known as Ernst & Young) in 2011. A principal, she leads the wealth and asset management practice out of the New York office. She has written articles for a variety of respected publications in the finance industry, and is frequently quoted as an expert by financial media.
Maria Wells has dealt with a series of critical health challenges over the past several years, but went on to create Mama Mia's BOWtique, a unique children's store that she uses as a platform to help children suffering from illness. Despite her own health challenges, she has raised more than $30,000 in the last eight months alone to help families dealing with blindness, paralysis, brain cancer, severe heart issues, and more.
The 2011 men's lacrosse team earned an at-large bid to the sport's national tournament, where the Lakers beat C.W. Post, the two-time defending national champion, by a 14-4 margin, and then beat Adelphi to claim Mercyhurst's first national title in a field sport.
Breanna Haggerty Bertolini played lacrosse from 2006 to 2009. She still holds the school record for career goals with 241 and career points with 341. Her 75-goal season in 2008 is the program's single-season record. She was a First-Team All-American in both her junior and senior years. She now works as a freelance graphic designer and publishes a popular blog called "brepurposed," about her love for repurposing things and giving new life to the old.
Emily Warren Zimmer was a perennial MVP in field hockey from 2006 to 2009. She holds program records for career goals (40) and points (97), and is tied for the assists record (17). She earned 1st Team All American honors in 2009, as well as a pair of 2nd Team awards. She now works with students with disabilities at Buffalo's McKinley High School and coaches for the Amherst High School JV team and the Buffalo Hurricanes club team.
Ian Wild helped the Laker football team earn its first PSAC championship and first appearance (and first victory) in the NCAA tournament in fall 2010. In spring 2011 he was a key factor as men's lacrosse won its first national championship. He was the tourney MVP and also earned the NCAA's Elite 88 academic award. He has played in both the NFL and the Canadian Football League, this season with the Toronto Argonauts. He's a Certified Financial Planner and a financial advisor in the Pittsburgh office of HBKS Wealth Advisors.
PHOTO: (L-R) The Honorable Richard A. Lanzillo receives the Sister Carolyn Herrmann Award from Mercyhurst President Michael T. Victor. Looking on is Dr. Melanie Titzel, president of the Mercyhurst University Alumni Association Board of Directors.