Mercyhurst gives international student new lens on world
Saturday, May 05, 2018
Mercyhurst enrolls 225 international students from 51 countries with 46 graduating this weekend. Quite a few have garnered significant job and continuing education opportunities, among them at businesses like Ernst & Young and KPMG and graduate studies at the University of Notre Dame, Cambridge University and Oxford University. Here's one graduate's story.
...
Growing up in Mainland China, Yuhao Yang's world view was limited.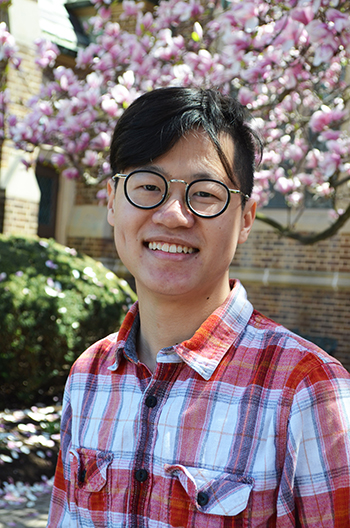 He longed to see, feel and learn more. He wanted to experience freedom and democracy and to understand policies, politics and issues affecting other countries. Coming to Mercyhurst University four years ago gave him all that … and more.
Majoring in Intelligence Studies, which included an exclusive summer program at Oxford, Yang delved into issues of global migration, particularly the refugee crisis that had shaken the geopolitical environment in many parts of the world. Not only did he discover his calling – to be a scholar of migration studies and maybe one day an immigration lawyer – but he found a way to create opportunities for immigrants here in Erie and to provide an example for other international students.
Following his graduation from Mercyhurst on Sunday, May 13, Yang will head to University College London to pursue his Master of Science in Global Migration. What he finds fortuitous is that he will be there when the United Kingdom officially secedes from the European Union in 2019.
"When immigration is one of the important factors causing Brexit, I am fortunate to study the issue in the political center of Britain at such a historical moment," Yang said.
Meanwhile, Yang believes that the field of global migration is understudied. "There are lots of people moving around out there, but not that many are studying their history," he said.  Ultimately he'd like to see more mobility as a way of people learning about their fellow humans and their cultures.
"In China, people are subject to authority and don't express themselves much," said Yang. "Here people talk and exchange thoughts and ideas. But many in the West take that for granted. (Despite) our contrasts, we are all still people and have a lot of similarities."
This became apparent when Yang did an internship at the International Institute of Erie, supporting staff members as they sought to help refugees with housing, medical care, education and jobs. Drawing on his background in business and competitive intelligence research, Yang also wrote business plans for refugees who wanted to start their own businesses – eight in all – including one for Shawarma & Smoothie, a food truck offering authentic Middle Eastern fare.
"I think Yuhao's story is extra special because it's not only about an international student taking his place on the world stage, but of an international student helping immigrant families right here in Erie," said Mercyhurst International Enrollment Counselor Angela Phillips. "It's remarkably in tune with our core values."
Yang, meanwhile, said he looks forward to seeing his parents, aunt and uncle, who are making the 20-hour flight to watch him receive his degree at Sunday's commencement.
As he leaves Mercyhurst, he hopes his experience and success can create a path, or at least serve as an inspiration, for others in the international community.
"I don't want people to be scared of internationals," he said, flashing an oversized smile that's become synonymous with his demeanor. "I tell them all to smile."