Mercyhurst gauges efficiency of COVID-19 mitigation efforts on campus
Friday, July 24, 2020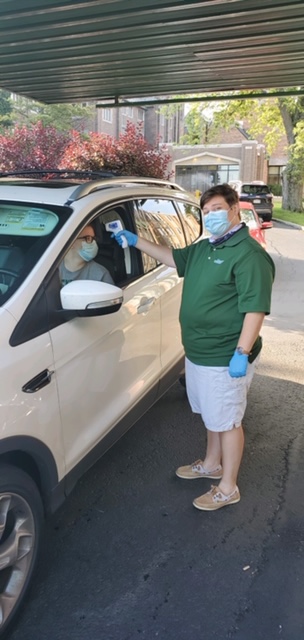 Today it was a dry run to gauge the efficiency of temperature checks; next week it is mandatory employee training on COVID-19 mitigation efforts; for weeks now, it has been communications in the form of an official website, emails, and videos. Every possible measure to ensure the health and safety of the college community is underway at Mercyhurst University as it prepares to begin in-person classes on Aug. 19.
"We have worked all summer to prepare our campus for as many situations as we can possibly anticipate and we will continue to do so, ready to adapt to circumstances as they arise," said Vice President for Student Life Dr. Laura Zirkle, who heads the university's COVID-19 Team.
The university has already trained its own contact tracers. At this point, 20 staff members are ready to assume the responsibility of contact tracing were a case of the coronavirus to arise on campus. Meanwhile, in an effort to create a common base of education and awareness, another 50 athletic coaches and staff also went through the contact tracing certificate program offered by Johns Hopkins University.
Last week the university announced the launch of its new COVID-19 website, Resilience and Resolve: Blueprint for Fall 2020, where its plans for reopening are housed.  The authors noted, however, that like the pandemic, it is a work in progress and will be subject to frequent updates.
To complement the website, a series of short, focused videos will be shared with the college community covering academics, residence life, athletics, wellness initiatives, dining services, and more. The introductory video was disseminated earlier this week.
Mercyhurst President Michael T. Victor said the university took a very Mercyhurst approach to its planning - broadly consultative, deeply analytic, and mission-driven, and it relied on bedrock principles: protecting the health of the entire community, preserving its ability to deliver on Mercyhurst's mission of teaching, and doing all of this in a spirit of fairness and compassion.
"However sound our process, I know our decisions come with a real human cost: mandatory facial coverings, daily health screenings, physical distancing, and so on," Victor noted. "I offer two thoughts to consider as we move forward. One: More than 94 years ago, our founding Sisters of Mercy set the bar, illustrating time and again their fortitude in adapting constructively to challenging situations. Can we do any less? And two: While our shared safety depends on the course of the pandemic, it also depends on all of us, on our conscientious care for one another and on our ability to make the best of this unprecedented challenge."
PHOTO: Director of Residence Life Megan McKenna takes the temperature of a Mercyhurst employee.