Mercyhurst, Federal Resources Corp. announce partnership in cyber realm
Monday, May 17, 2021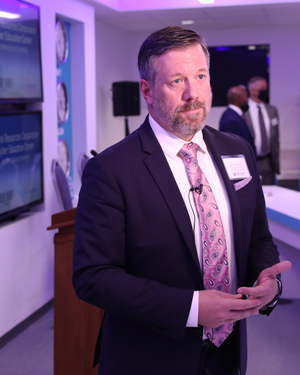 Three years ago, Erie native Jeremy Young brought his fast-growing technology company, Federal Resources Corp., from northern Virginia to Erie with the promise of doing "something big."
Today, Young and Mercyhurst University are announcing a partnership that is consistent with that goal as they establish the new Federal Resources Corp. Cyber Education Center at Mercyhurst University. In addition, Young has made a significant financial gift to the university.
Federal Resources Corp. specializes in providing IT modernization solutions and services that focus on cybersecurity, cloud, data analytics, and infrastructure to the United States government.
"We are excited to have forged a dynamic partnership with Federal Resources Corp., which will further strengthen our thriving cybersecurity program and related technologies while, at the same time, create new career opportunities for students in complementary disciplines," said Mercyhurst Interim President Joseph G. NeCastro. "Mercyhurst has been at the forefront of delivering hands-on, practical instruction that students can apply to their careers, and this is one more example of that longstanding commitment.  We are enormously grateful to Mr. Young for his generosity."
Young intends to actively work with Mercyhurst students in the cyber building's Network Operations Center; monetizing it, in fact. He foresees the opportunity to curate go-to market opportunities, joint revenue streams, and strategic relationship building while simultaneously utilizing the space and his local offices for paid internships and other forms of student engagement.
He further expects to create a pipeline of talent, not only for the intelligence and cybersecurity work force, but in business, accounting, risk management, marketing, and other skill sets much in demand by today's tech companies.
"When we originally sat down with representatives from the university, we mapped out the priorities and agendas of both organizations," Young said. "We were able to identify an overlap of key strategic initiatives that included: raising of profiles to grow our markets, work force readiness, capabilities growth driving value to mission and technology partners, and the relentless dedication to our community."
Not only does Young see the new partnership benefitting Mercyhurst students, but providing value to his customers through technical, professional, and research services.  Besides his contract work with the federal government, which is strongly focused on national defense and health care – two disciplines in which Mercyhurst maintains highly respected programs – Young is actively expanding his operations in the private sector. Recently, for instance, Federal Resources Corp. formed a partnership with Fortune Global 500 Accenture, a professional services company with leading capabilities in digital, cloud, and security. Big Four accounting organization Deloitte is also among the company's growing repertoire of high-profile partners.
When Young bought Federal Resources Corp. in 2018, he employed seven people; today, from his headquarters at 440 W. 8th St., he oversees more than 70 employees across the U.S., including 35 in Erie. His sales, which he projected in 2019 would reach between $75 million and $100 million within five years, are at $75 million in less than three years. He has set an even loftier goal of hitting $250 million by 2026.
From the get-go, Young's vision aligned with Mercyhurst University, where he could pair his company's expertise in technology and connections in government with Mercyhurst students' skills in intelligence studies, big data, and cybersecurity. He has hired numerous Mercyhurst graduates from the Ridge College of Intelligence Studies and Applied Sciences with impressive results.
"The reputation of the Ridge College and the success of its students have contributed significantly to our success as a company," Young said. "I see this partnership as one of 'mutual relevance,' where we can further leverage our resources to benefit each other."
Mercyhurst University Provost and Vice President for Academic Affairs Dr. Leanne Roberts, who was instrumental in orchestrating the new partnership, said, "Since headquartering his company in his hometown, Jeremy has sought to create opportunities for young professionals who want to stay in Erie, and has sought to be a positive corporate citizen. His relationship with Mercyhurst is just one more manifestation of that commitment, and we look forward to working together in support of our mutual goals and those of the greater Erie community."
Even before moving his company to Erie, Young started investing in the city. In 2014, he bought and restored an aging building behind Junior's Comedy Club, between State and Peach streets, presently home to Domino's Pizza. Before partnering with Our West Bayfront, which eventually led to the purchase and renovation of his company's headquarters at 8th and Chestnut streets, he rented space from the Erie Downtown Development Corp. in the Cashier's House at 417 State St. He also pays his employees a stipend if they choose to reside in or near downtown Erie.
PHOTO: Jeremy Young