Mercyhurst community shares plans to salute veterans
Monday, October 26, 2020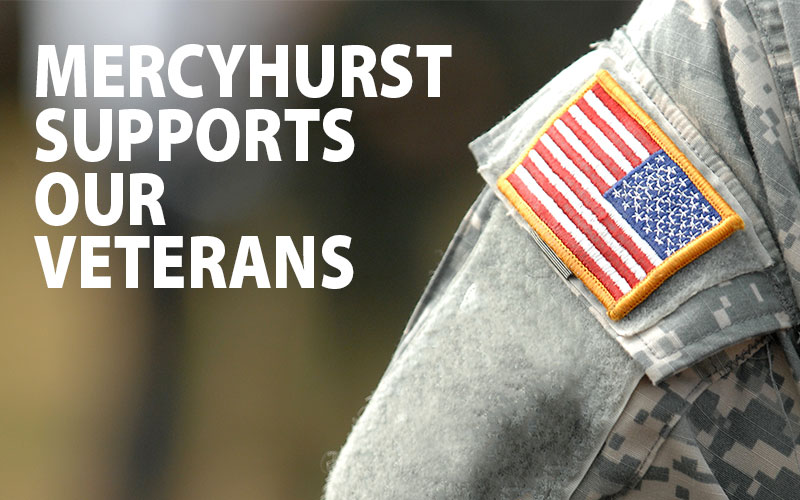 Although the pandemic has restricted most in-person events for Mercyhurst University's annual Veterans Day observance, 2020 remains an important year in celebrating Mercyhurst's commitment to its veterans and their families.
Earlier this year, the university was named to the nation's Troops to Teachers (TTT) program, one of only three universities in Pennsylvania chosen. A year prior, Mercyhurst became a Purple Heart University, one of only two in the state. Mercyhurst is also ranked by U.S. News & World Report as among the "Best Colleges for Veterans."
"As Americans, we enjoy an abundance of rights and privileges that people in other parts of the world do not and, in many cases, those freedoms have come from the sacrifices made by our veterans, to whom we owe our deepest gratitude," said Mercyhurst President Michael T. Victor. "In honoring them, let's remember the words of President John Fitzgerald Kennedy, who said, "As we express our gratitude, we must never forget that the highest appreciation is not to utter words, but to live by them."
Mercyhurst Veterans Services Coordinator Christian Constantine said the university begins its observance on Monday, Nov. 9, when the boulevard entering campus will be lined with American flags, a custom of recent years. Bugle calls will also sound throughout the day. The flags will be in place all week.
On Veterans Day, Wednesday, Nov. 11, the day begins with Reveille at 7:45 a.m., when the Army ROTC cadets will raise the flag in front of Old Main. Then, in another tradition, the university will host the annual Celebration of Valor, which will be seen on YouTube Live beginning at 3:30 p.m. Lieutenant Colonel Michael Bentley, Army ROTC Professor of Military Science, is the guest speaker for this event. The day ends with Retreat (flag lowering) in front of Old Main.
Masks and appropriate social distancing protocols will be in place at both the Reveille and Retreat events.