Mercyhurst celebrates grand reopening of newly renovated library
Monday, October 07, 2019
Renovations include glass-enclosed display of historic artifacts from Ridge Archives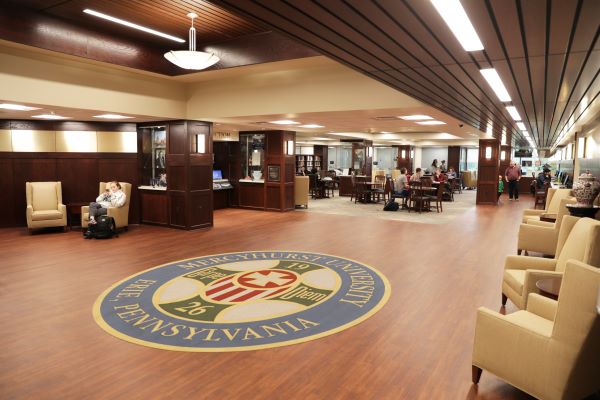 On Monday, Oct. 7, Mercyhurst University will celebrate the grand re-opening of one of its most prominent structures – the Mercyhurst library – with a ribbon-cutting ceremony, tours and a reception for invited guests, including Gov. Tom Ridge, whose archives are housed in the library. A special viewing and reception for the college community will commence at 4 p.m. 
The $1.5 million interior facelift, which is confined to the main floor, was completed just in time for the fall semester, and was accomplished entirely with donor dollars, using no tuition funds and at no cost to students. Part of the renovations include a collection of nine built-in glass display cases featuring historic documents, photographs and realia from the Thomas J. and Michele Ridge Collection.* Special gifts from the Arnold D. Palmer 2003 Charitable Trust and the Henry L. Hillman Foundation of Pittsburgh made the display possible. Due to the special relationship Gov. Ridge had with the late Arnold Palmer and the Hillman family, both foundations made their first-ever gifts in Erie County.
Also instrumental in providing funds for other recent library upgrades are alumna, benefactor and former Trustee Ellen Ryan and her husband, David, and alumna Mary Wood and her husband, Michael. A primary sponsor of the reopening is Thomas B. Hagen, after whom Mercyhurst's History Department is named. Hagen also served as Secretary of the Department of Community and Economic Development in the Ridge Administration.
One of the key donors to the overall renovation, alumnus Brian DeFrancesco of Orange County, California, a former business student of university President Michael T. Victor, was expected to attend the event. Both Victor and Vice President for External Relations Cal Pifer, who was instrumental in securing funds for the expansive renovations, credited DeFrancesco with "sealing the deal."
"We had a funding gap when we began the project, but Brian came along and filled it," Pifer said. "His contribution made all the difference, and we are most grateful to him and his wife, Jessica, for their generosity." 
DeFrancesco, a highly successful tech entrepreneur, said he was inspired to give by President Victor, a former mentor. "Seeing him devote his time to higher education and to lead and inspire students when he could have easily retired after his successful business career was a great example of how not to define success from what you achieve in business alone, but by how you give back and inspire others," he said.
Meanwhile, faculty, staff, and students are already benefitting from the upgrades, many of which were included as a direct response to student requests, including more private study spaces along the periphery of the ground floor.
The information commons provides multiple spaces for collaborative research and study, including several conference-style study rooms for student use.  The renovations, designed by the Erie firm of Weber Murphy Fox and constructed by Considine Biebel, also made way for modernized spaces for testing, tutoring, and IT Department technology support; as well as a new user services desk, and gathering spaces to read and socialize.
Library Director Darci Jones said the response from students has been "overwhelmingly positive."
At the heart of the spacious entrance is a round, handcrafted carpet customized with the Mercyhurst insignia. 
*About the Ridge Collection
In October, 2013, Mercyhurst University announced the gift of The Thomas J. & Michele Ridge Collection, a robust archive that documents their lifetime of public service. The collection spans Tom Ridge's military service in Vietnam through his years as a U.S. Congressman for the Commonwealth of Pennsylvania, his two terms as Governor (1995-2001), and service as the nation's first Secretary of Homeland Security. The collection also features the historic papers and ephemera from Michele Ridge's service as First Lady and her civic and meaningful contributions to the lives of Pennsylvanians. The collection features more than one million printed pages, 10,000 photos, 3,000 audio visual items, and 1,500 artifacts.