Mercyhurst cadets support Erie Police Athletic League
Wednesday, January 05, 2022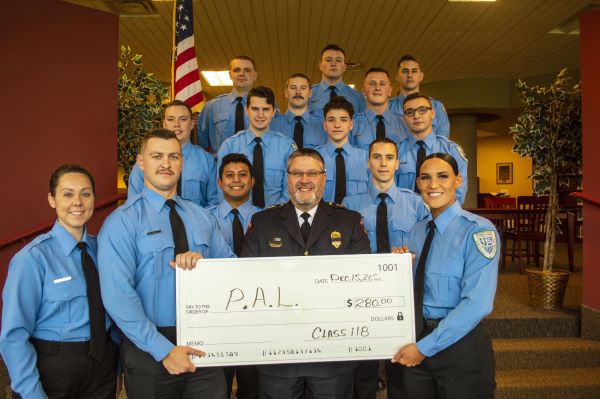 The Mercyhurst Municipal Police Training Academy graduated Class 118 on Dec. 15, 2021, during which the cadets donated $280 to the Erie Police Athletic League.
"As new police officers, our graduates recognize the value of the cop-kid relationship and have chosen this way to support it," said academy director Bill Hale. "The Erie PAL program helps to reduce crime, promote good relationships between police and citizens, and develop positive character."
Erie Police Chief Daniel Spizarny, who was guest speaker at the graduation, accepted the donation on PAL's behalf.
Graduating cadets include, left to right:
Row 1: Angel Stiles, Mitchel Miller, Edgar Halligan, Erie Chief Dan Spizarny, Joshua Hamilton, and Kaitlin Mathieson
Row 2: Jordan McCalla, Matthew Whitman, Allie Walkiewicz, and Patrick Caskey
Row 3: Gabriel Young, Nash Oertly, Nicholas Bizzaro, Travis Corbett, and Jared Spring.