Mercyhurst Board elects three new trustees
Friday, March 18, 2022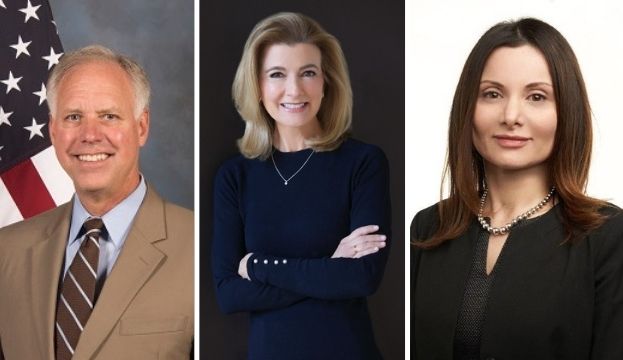 When the Mercyhurst University Board of Trustees hosts its spring meeting on May 14, it will welcome three newly elected trustees: James G. Breckenridge, Ph.D., provost of the U.S. Army War College; Christine J. Spadafor, CEO of SpadaforClay Group, a management consulting firm; and Barbara Wenig, head of global operations and platforms for Principal Global Investors.
James G. Breckenridge, Ph.D.
Jim Breckenridge has a long and enterprising history with Mercyhurst, serving as director of admissions from 1998-2001, and then as a faculty member and first chair of the Intelligence Studies Department from 2002 to 2011. He was founding dean of the Ridge College of Intelligence Studies and Applied Sciences from 2014 to 2017. During his tenure at Mercyhurst, he also served as dean of the Walker School of Business and executive director of the research arm of the intel department, the Institute for Intelligence Studies.
In 2017, he was named provost of the U.S. Army War College, serving as its chief academic officer and senior civilian. The college is the U.S. Army's senior institution for professional military education, overseen by the Chairman of the Joint Chiefs of Staff, as well as general officer education overseen by the Chief of Staff of the Army. The college educates over 2,400 military, Department of Defense (DOD) civilian, international, and interagency students annually across 10 separate Army and joint educational programs.
During his 22-year military career, Breckenridge taught Middle Eastern History and served as the course director for the World History Program at the United States Military Academy at West Point. Among numerous military awards, he was honored with the Legion of Merit and was selected as a Foundation for Defense of Democracies Fellow for the study of Middle Eastern security issues.
Breckenridge earned a doctorate in Organizational Learning and Leadership and a master's in Business Administration at Gannon University. He holds master's and bachelor's degrees in History from the University of Virginia and Virginia Tech, respectively.
He and his wife, Mary "Missy" Breckenridge, Ed.D., reside at Carlisle Barracks. They have three adult daughters: Army Lieutenant Colonel Catherine Crombe, Annemarie Depue, and Army veteran Christine Schwartz; and eight grandchildren.
Christine Spadafor
As CEO of SpadaforClay Group, Erie native Christine Spadafor has led transformational industry initiatives at the intersection of strategy, operations, finance, and change management in both domestic and global markets. She has worked extensively as an advisor to Fortune 500 C-suite executives.
She serves as an independent director on boards of public and private companies: Boyd Gaming Corporation, a $3.5B NYSE-listed company; Intus Care, a healthcare software company; and until its recent acquisition, Kindred at Home, the largest provider of home care and hospice in the U.S. She serves on the advisory board of WBUR, one of the premier National Public Radio stations in the U.S., and is a commentator on the BBC World Service "Business Matters" global radio broadcast and podcast.
Spadafor was a partner in three premier global management consulting firms (Boston Consulting Group, Alix Partners, CSC Index). Then for nearly 10 years, she dedicated her experience to St. Jude's Ranch for Children, a nonprofit that serves abused, abandoned, and homeless children. As CEO, she inherited a nearly bankrupt organization and set an ambitious growth strategy, restructured the corporation, and executed an innovative plan that resulted in a turnaround that received national acclaim. During her tenure, more than 50 percent of the employees were women and persons of color, including members of the executive management team.
Spadafor is a graduate of Harvard Law School and Harvard School of Public Health and was recognized by the American Bar Association as one of the nation's top 20 female attorneys with business expertise for board service. She is frequently cited in the business press, including Inc., Fortune, and Authority magazines.
In 2019, in recognition of Mercyhurst's commitment to arts and culture, Spadafor created an endowed chair in music and an endowed scholarship in voice performance in honor of her late mother, Mary Pellegrino Spadafor. She also delivered the graduation address at the university's 91st Commencement that spring.
Barbara Wenig '95
Barbara Wenig is a 1995 graduate of Mercyhurst University, at the time an international student from Rome, Italy. She earned her bachelor's degree in Finance and Business Administration and went on to enjoy a successful career in high-powered New York City finance.
In September 2021, she joined Principal Global Investors as head of global operations and platforms. PGI is Principal Financial Group's global asset management business with oversight for $535 billion in AUM (Assets Under Management).
In her role, Wenig is charged with advancing strategic initiatives, managing relationships with board members, clients, and industry constituents, and engaging in new business efforts in support of PGI's platforms globally. She also oversees client, fund, and investment operations for PGI, and sits on several boards in the U.S. and Europe.
Prior to joining Principal, Wenig was a managing director for Neuberger Berman in New York, where she led strategic initiatives and oversaw client operations, digital, data and analytics, and business strategy for the organization.
Her first job was with an insurance startup affiliated with New York University Medical Center, where she spent two years working on financial programs and analytics. She then spent five years at HMS, a health care technology and analytics solutions firm, where she ran the financial planning and analysis function and earned her CPA and CFA designations.
In addition to her Mercyhurst degree, she earned an MBA from Ohio State University.
She and her husband, David, are the parents of two sons and two daughters.
PHOTO: From left, Breckenridge, Spadafor, Wenig