Mercyhurst athletic camps – ratcheting up the game
Wednesday, November 03, 2021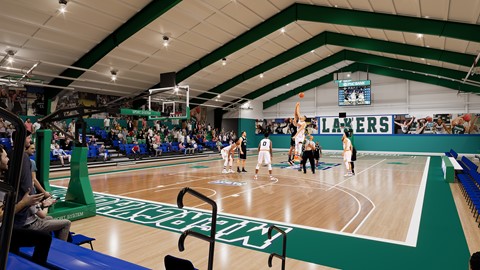 You could call them a bunch of show-offs, but Mercyhurst University coaches can't wait to share their new athletic facilities with as many young people as they can.
"The new facilities are a really big draw and I know a lot of our coaches are taking advantage of that," said Mercyhurst Men's Lacrosse Coach Chris Ryan referencing a heightened interest in hosting in-season and summer athletic camps and clinics. "I know lacrosse is looking to hold camps this summer."
Lacrosse now benefits from playing in the modernized Saxon Stadium, which like nearly all athletic facilities on campus, was upgraded through the $10 million Laker for Life Campaign. The facilities comprise the William Vorsheck Jr. Athletic Complex.
Like football and lacrosse, field hockey also competes in Saxon Stadium. Brittney Randolph, who became the university's new head field hockey coach a year ago, said she's eager to bring more players to campus.
"Unfortunately, there's not much field hockey in this area and we have to rely on schools, like those in Cleveland and Pittsburgh, to bring players to camps, but we are hoping for big things this summer," Randolph said.
Baseball camps are not new to Mercyhurst, but Head Coach Joe Spano predicts the proliferation of even more camps, clinics, and tournaments resulting from the new facilities. "It's just a great way to get people here," he said.
Men's Basketball, meanwhile, is hosting its first seasonal camp on Sunday, Nov. 7, a one-day elite camp for players in grades 9-12, which takes place at the new Owen J. McCormick Basketball Court situated in the totally renovated Mercyhurst Athletic Center.
With less than a month's notice, the camp had enrolled 75 participants as of Nov. 3. "The facilities are great, and I think another draw for us is that people respect our program and want to be part of it," said Men's Head Basketball Coach Gary Manchel.
The Lakers are picked to finish second in the 2021-22 PSAC Men's Basketball Poll after being ranked Nov. 12 in the nation by the National Association of Basketball Coaches. The Lakers return 12 players from last year's season in which the team finished 12-1.
"We want the young players to enjoy basketball with us and, hopefully, become better at the game," Manchel said. "It's also a chance for them to see us in action and get a sense of college life. Part of the day will include a 45-minute tour of campus and lunch at The Grotto in Egan Hall."
From an athletic recruiting standpoint, it's also a chance for camp participants to be seen by Mercyhurst coaches. "They see us, we see them; it works both ways," Manchel said.
In September, the women's basketball team, headed by Coach Brooklyn Kohlheim, held an elite camp for 9th-12th-grade players, which netted 90 attendees. Mercyhurst Softball also hosted the Tri-State Player Showcase, which was attended by 130 high school players and coaching personnel from 10 regional colleges and universities. 
What is shaping up as a revival of extracurricular athletic programs on campus pleases Assistant Vice President for Athletics Brad Davis, who said, "The recent facility upgrades are reflective of the university's commitment to athletics. We understand our role in the community, and I am grateful our coaches are supportive of the university's mission."