Memories of 9/11: Two faculty members share personal stories
Friday, September 03, 2021
Americans observe 20-year anniversary of deadliest terrorism act in history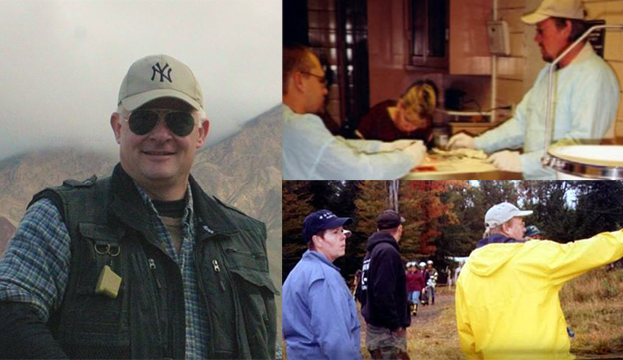 Most of the undergraduate students at Mercyhurst University were toddlers when nearly 3,000 people died in Manhattan, at the Pentagon, and in a Pennsylvania field on September 11, 2001, in what remains the deadliest act of terrorism in history.
Two airplanes hijacked by terrorists tied to al-Qaeda flew into the World Trade Center in New York, collapsing the Twin Towers. Just outside Washington, another hijacked plane flew into the Pentagon. A fourth crashed into a field near Shanksville, Pennsylvania.
For at least two Mercyhurst faculty members, the experience had a profound effect, and at times like these – the 20th anniversary of 9/11 – their memories are more vivid than for most of us. 
Fred Hoffman, assistant professor of intelligence studies, was a defense contractor at the time. That day, he was performing an exercise in the Pentagon, ironically, simulating a potential terrorist threat, when at 9:37 a.m., American Airlines Flight 77 crashed into the western facade of the building, killing 125 people inside and another 64 in the plane.
For Dennis Dirkmaat, chair of Applied Forensic Sciences, the immediacy of the tragedy was not as pronounced as for Hoffman, but the lingering effects remain to this day. Dirkmaat, an internationally known expert in the recovery of human remains from outdoor sites, was called to the field in Somerset County where United Airlines Flight 93 crashed after passengers and crew tried to wrest control of the plane from the hijackers.  
Working alongside Somerset County Coroner Wallace Miller, Dirkmaat was the chief forensic anthropologist at the scene, charged with the grim task of gathering and identifying the fragmented remains of 44 men and women.
As witnesses to this infamous chapter in our history, Hoffman and Dirkmaat reflected on what they experienced then and what it means to them today.
The Mercyhurst University community will observe the 20th anniversary of 9/11 with a display of American flags lining the boulevard entrance to campus. The flags will be erected the week prior to the actual anniversary, which falls on a Saturday. On that day at noon, the university will hold a brief memorial observance at the flagpole in front of Old Main organized by the ROTC and veterans' personnel. It will include a Color Guard, Singing of The National Anthem, Remarks by Mercyhurst Chaplain Father Jim Piszker, Recognition of Groups Affected by 9/11, Taps, and Closing Prayer. In case of inclement weather, the event will be moved to Christ the King Chapel. All are welcome.
Hoffman was communicating from the Pentagon with Special Forces personnel in the field during a red-teaming exercise. In this case, Hoffman's team was simulating the role of the enemy and was charged with identifying vulnerabilities and providing security feedback regarding a terrorist plot. 
Suddenly, a plane crashed into the North Tower of the World Trade Center, and confusion ensued. "Twenty years later, I still get goosebumps just thinking about it," Hoffman said of what seemed the ultimate irony. 
"We immediately got out of exercise mode and started trying to figure out what was happening; it was very tense, nobody knew what was going on," he said. Fifteen minutes later, another plane struck the South Tower and, before they knew it, the Pentagon was hit. 
"I was at the complete opposite side of where the plane hit, but I could feel the rumbling in my seat – it was long and steady – and the smell of aviation fuel and smoke was almost instantaneous," Hoffman recalled. Within 10 minutes, thousands of Pentagon personnel were being evacuated. Many still were unaware of the magnitude of the morning's events. 
Not until the next morning did it sink in for Hoffman. He went out to walk his dog and was met by an unfamiliar silence. He looked up. There was not a plane in the sky to see, or a jet engine to hear.  "It was eerie," he recalled.
Twenty years later, his memories mesh with scenarios from the Pentagon, New York, and Afghanistan. Fortunate to have escaped the Pentagon without injury, the sights and smells of that day remain. But his personal memories of 9/11 are not limited to the D.C. area. 
"I am a New Yorker, born and raised," he said. "I've had drinks at Windows of the World (atop the North Tower), and I've done business in many of the buildings there. You can live anywhere in the world, and I have, but once a New Yorker always a New Yorker." 
The aftermath of 9/11 was to continue for Hoffman, when three months later, he was mobilized to Afghanistan. With 30 years of experience in the military and in multiple intelligence community organizations, Hoffman has served in 28 different countries. 
Today, he looks back knowing that 9/11 – like no other chapter in world history – changed America's psyche. "It was the first time that ALL Americans felt vulnerable," he said. "That's a feeling that remains with us even today."
For Dirkmaat, who has responded to several airline crashes in his lifetime, United Airlines Flight 93 was unlike any other. Suddenly, he was on a world stage and the emotional impact of what this horrific event had brought upon the collective consciousness of all Americans was palpable. 
Like Hoffman, Dirkmaat had his own brush with irony. Long regarded as the pioneer in the archaeological recovery of human remains from outdoor contexts, Dirkmaat had helped to publish national standards for recovery protocols at mass disasters earlier that year and the research was fresh in his mind when summoned to Shanksville. He knew his obligation to the victims and their families was all about implementing those protocols properly. 
Years ago, as he removed a wedding band from a man's finger retrieved from another airline crash, he dared to let his mind wander … I wonder who this is … what was his life like … was he happy … In that moment, he learned that to examine human remains and ascribe personal thoughts or feelings would only impede his work.  So, he acquired the ability to compartmentalize and focus only on the science. 
He remembers learning of the crash near Shanksville the morning of 9/11. Confident that Somerset County Coroner Wallace Miller, with whom he had worked on several previous cases but nothing on this scale, would ask for his help, he started packing the forensics van. When the call did come, he was ready. Dirkmaat and Miller were the first civilians allowed at the scene.
There, they witnessed the crash crater where the larger pieces of the plane were buried in the dirt, widely scattered debris, and plumes of smoke radiating upward from burning trees. Dirkmaat spent two weeks at the scene, working both in the field and in the morgue. Remains of all the victims were ultimately identified, either through DNA, dental records, or fingerprints, and he's proud that his work may have given the families some closure.
Still, he said, "My overarching thought through it all was that somebody dared to do this to us, and they got away with it."
(You can watch Miller and Dirkmaat talk about their experience in a recorded speaking engagement from the Flight 93 National Memorial in Somerset County.)  
Today, Dirkmaat returns to the scene annually with his students, where he teaches them about the value of the scientific process and the importance of their work while sharing snippets of his personal experience with this unparalleled tragedy, one that most of them would only read about in history books.
PHOTO: Fred Hoffman in Afghanistan (left) / Dennis Dirkmaat at Flight 93 crash site in Shanksville.