Mary D'Angelo Performing Arts Center celebrates 25 years today
Tuesday, April 20, 2021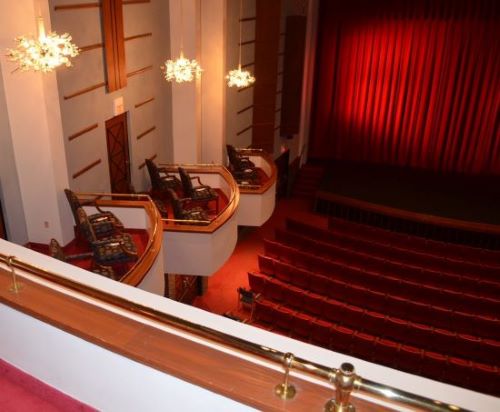 Twenty-five years ago today, Mercyhurst University dedicated the Mary D'Angelo Performing Arts Center (PAC), widely heralded across the tri-state area as an unrivaled performance venue capable of handling the technical requirements of the most elaborate productions, including ballet and opera.
Since its opening in 1996 with a performance by celebrated pianist Andre Watts, the PAC has lived up its emergence as being to Erie what the Lincoln Center is to New York City and the Kennedy Center is to Washington, D.C.  Even its chandeliers were designed in homage to those glittering gems of the Metropolitan Opera House.
In recent years, world-class performers such as Lily Tomlin, Bernadette Peters, Kristin Chenoweth, Patti LuPone, Audra McDonald, Shirley MacLaine, Rosanne Cash, David Sedaris, and the Vienna Boys Choir have enthralled sold-out crowds as part of the Mercyhurst Institute for Arts & Culture's MIAC Live series.
Besides fulfilling its role as a venue for exceptional arts and culture experiences, the PAC has also been home to lectures, including the acclaimed Sister Joan Chittister Lecture Series, political debates, and a host of educational presentations.
"The Mary D'Angelo Performing Arts Center has been a place of inspiration for so many over the past 25 years," said MIAC Artistic Director Brett D. Johnson. "We invite anyone who has been inspired by, or whose life has been enriched as a result of attending a performance at the venue, to consider making a gift in celebration of this milestone."
To commemorate the Center's anniversary, MIAC is introducing its $25 for 25 campaign. Every dollar raised will be used to offset costs associated with the PAC's 25th anniversary season. Show your support for the Mary D'Angelo Performing Arts Center during its 25th anniversary!