Magoc conveys timely text on descent of American democracy
Wednesday, January 05, 2022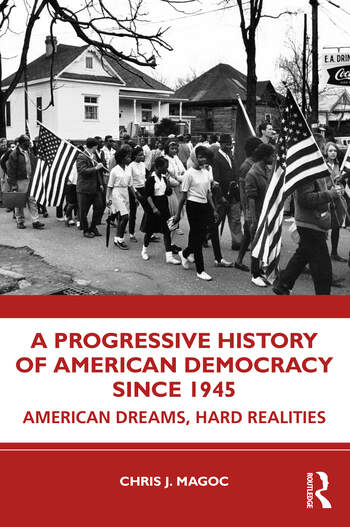 In his latest book, Mercyhurst University History Professor Dr. Chris J. Magoc juxtaposes "American dreams and hard realities" in chronicling the social, political, and cultural history of the United States since World War II.
In this timely text, A Progressive History of American Democracy Since 1945: American Dreams, Hard Realities, Magoc examines how Americans descended from a mid-century mindset of boundless expectations to a sense of endless crisis and national failure today.
Magoc began envisioning the book nearly a decade ago as a chance to pull together much of what he has learned since he began teaching a post-1945 American history survey class at Mercyhurst in 1999.  Since then, the fragile nature of American democracy has only grown more apparent, its citizens more polarized than "at any time since the Civil War," he said.  
"I felt compelled," Magoc said, "to try and address some of the big questions haunting many of my students and millions of Americans: what happened to America?  To a nation of boundless expectations and trust in science, objective truth, faith in the future, who saw one another not as political enemies but as fellow citizens?"  Reflecting the anxieties of many, Magoc observed that a "people who led the fight to defeat global fascism in World War II now face a rising domestic threat of antidemocratic authoritarianism from within."
Despite the dark turn the nation has taken over the past couple of decades, Magoc remains hopeful, guided by the spirit of Herbert Hoover's wisdom that "the supreme purpose of history is a better world." Beyond the question of decline, the book also explores how the democratic patterns of postwar history can point the way toward a recovery of shared national values. 
According to the book's description, American Dreams, Hard Realities also examines:
Grassroots movements that have expanded the meaning of American democracy, from the 1950s human rights struggle in the South, to contemporary movements to confront systemic racism and the existential crisis of climate change.
The resilience of American democracy in the face of antidemocratic forces.
The impacts of a decades-long economic transformation.
The consequences of America's expanding global military footprint and national security state.
Fracturing of a nation once held together by a post-war liberal consensus and broadly shared societal goals to an America facing an attack from within on empirical truth and democracy itself.
The 1st edition was released by Routledge on Dec. 30, 2021.