Innovation Entente Lab opens new digs, expands support to region's entrepreneurs
Friday, March 05, 2021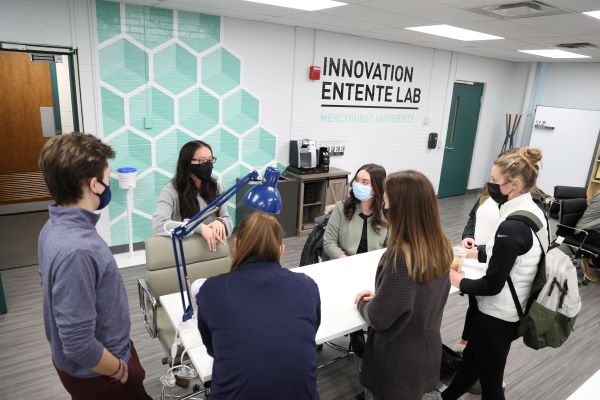 Expand is the operative word given the March 1 opening of Mercyhurst University's new Innovation Entente Lab (IEL) as well as the launch of its mobile unit, the hiring of new staff, and increased geographical coverage.
The IEL, part of the NWPA Innovation Beehive Network formed in 2014 to enhance business expansion and development in the region, combines the university's strong expertise in applied sciences with its rich tradition of liberal arts education to help promote community entrepreneurship and innovation.
IEL team members help clients identify key marketing strategies, potential funding pipelines, and the necessary strategic media options to help place entrepreneurs and small business owners on the path to success.
Thanks to the combined effect of recent grants, what was once a makeshift research lab has morphed into an uber-modern facility with 15 work stations, robust technological capabilities, two large wall monitors for projecting data, two MacBook Pros for graphic design, and a conference and presentation area.
Although the IEL staff, headed by Brian Fuller, and comprised of Mercyhurst undergraduate and graduate students, has been producing products for some time from various venues on campus, this marks the first time they have had a dedicated space, the result of an $89,000 grant from the Erie County Gaming Revenue Authority. 
The new space, which is situated on the ground floor of the library, just south of the Cyber Education Center, was designed in part with input from Mercyhurst's interior design and graphic design students; there's even an alumni connection. The lab's conference table was handmade of repurposed barn wood at Willow Creek Barn Wood Furniture in Edinboro, which 2015 Mercyhurst alumnus Casey Brown co-founded with his father, Chris. Casey's sister, Kennedy, is also a Mercyhurst graduate, Class of 2020.
A more recent three-year grant of $376,000 from the Appalachian Regional Commission allows the IEL to provide more direct, on-site support by taking teams of students on the road to serve clients in their own environs. Until recently, the IEL had served a five-county area, but has since expanded its regional coverage to include 17 counties, including parts of New York and Ohio. The funding has also prompted the expansion of the IEL workforce, from two to three student teams and the hire of a new assistant director, Abbey Lesniewski, who oversees the lab's day-to-day operations and coordinates its mobile capabilities.
Fuller said the IEL averages 40 clients a year. "With the latest grant," he said, "we have gone from 12 to 15 student analysts and are looking to increase production by 25 percent this year and another 40 percent in years two and three."
While the program's expansion bodes well for the university, it's students, local entrepreneurs and small business owners, Mercyhurst University Provost Dr. Leanne Roberts recognizes the collaboration among area universities and Blasco Library as being the key to continued success.
"The Innovation Entente Lab is the direct result of Mercyhurst's participation in the Northwest Pennsylvania Innovation Beehive Network," Roberts said. "Since its inception in 2014 from an Ignite Erie Grant, the Network, comprised of the four local universities – Mercyhurst, Edinboro, Gannon, and Penn State Behrend – and the recent addition of Blasco Library – has worked to enhance business expansion and development in the Erie area. The Innovation Entente Lab is now one of five grant-funded centers that collaborate to encourage business growth with each location offering its own specialized area of expertise."