Hospitality Management faculty earn certification as digital event strategists
Friday, January 14, 2022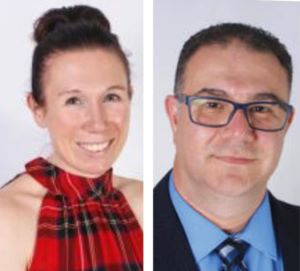 With the onset of the COVID-19 pandemic in March 2020 came a surge of canceled events.  Still, people needed and wanted to get together.
In trying to reconcile that reality, Pete Zohos, chair of Mercyhurst's Statler Department of Hospitality Management, decided that some adjustments were in order, particularly for the event management concentration of the bachelor's degree in hospitality management.
"Even though I had experience in this space already, I decided early on in the pandemic to get better educated and earn certification as a digital event strategist (DES). This enabled our students to get a more updated and relevant education within this new reality," Zohos said.
Just last month, he added, senior lecturer Allyson Shrimper-Minor earned her DES certification.
DES certification, offered through the Professional Convention Management Association, certifies individuals as recognized experts at connecting people to brands, ideas, and opportunities through business events in a digital world.
PHOTO: Allyson Shrimper-Minor & Pete Zohos