Graduation 2022: Mercyhurst seniors gift funds for scholarship
Friday, May 13, 2022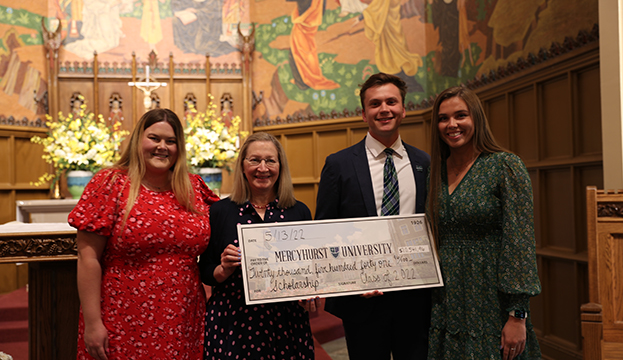 The Mercyhurst University Class of 2022 presented President Kathleen A. Getz with a check for $20,541.96 to fund the newly created Trish Jaskiewicz Scholarship during a ceremony Friday, May 13, at 2 p.m. in Christ the King Chapel.
Since 1989, each senior class has bid farewell to its alma mater by bestowing a gift upon the university. In 2018, the decision was made to create an annual scholarship as the gift, which is a more sustainable model, explained Lindsay Frank, director of alumni engagement and advisor to the Senior Gift Committee.
Meanwhile, alumnus and Trustee Lev Kubiak, who for many years has been a generous supporter of Mercyhurst, particularly its students, has agreed to match the students' gift up to $10,000, creating an endowed scholarship. The newest scholarship will be given to a student who exudes the Mercyhurst core values of both "Compassionately Hospitable" and "Socially Merciful" in the way Mercyhurst greeter and switchboard operator Trish Jaskiewicz does. 
Members of the leadership team of the 2022 Student Gift Committee are Rhyan Komsthoeft, Dominic Fucci, and Hannah O'Brien.
PHOTO: (L-R) Rhyan Komsthoeft, President Kathleen Getz, Dominic Fucci, and Hannah O'Brien.