Giving Day Student Stories: Gillian
Tuesday, March 30, 2021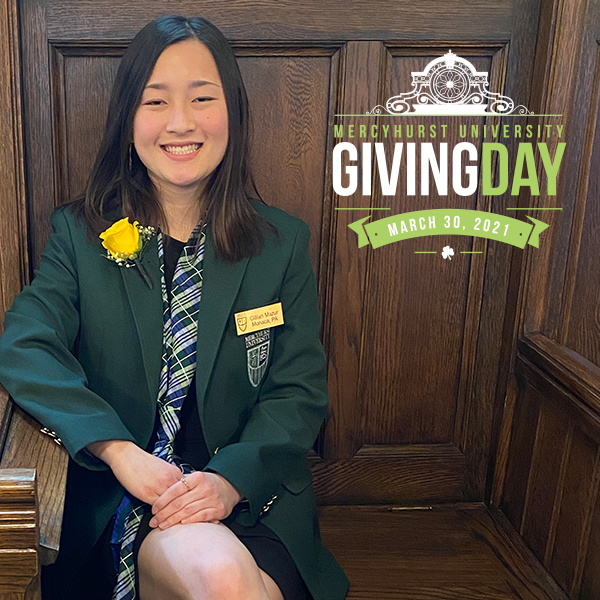 When you ask a Mercyhurst student what they are involved in on campus, don't expect a short answer. From student life activities, to internship experiences, to academic opportunities, and more, there are numerous avenues for Mercyhurst students to become involved. Gillian '21 is no exception.
Gillian's experiences include being a managing editor at the "Merciad," a Student Ambassador, and even a senator for Mercyhurst Student Government. In addition to these roles, as a Graphic Design major, Gillian is able to get hands-on experience as a content creator in the Department of Marketing and Brand Management, and as a photographer/videographer for the women's soccer team.
Her involvement goes beyond the gates, as she recently took on the role of Social Media and PR Officer for Mercyhurst's Habitat for Humanity club. When asked about her experiences at Mercyhurst, Gillian notes:
"I am so thankful for all of the opportunities Mercyhurst has provided me whether it be my numerous jobs, or the connections and relationships I've formed. I can't think of any other school that would allow me to juggle all of the balls that I do while still remaining successful in the classroom."
Your support on Giving Day ensures students access these opportunities, and more. The Annual Fund supports experiences like the Merciad, Habitat for Humanity, and computer software for academic programs. Your impact on Giving Day stretches across campus and allows students like Gillian to seize their day.
Save the Date and Give on Giving Day – Tuesday, March 30. Visit the Giving Day website to learn more. Questions? Contact Mitchell Marsh '20, annual giving coordinator, at mmarsh@mercyhurst.edu or 814-824-3625.