Getz among new faces at Erie Homecoming 2021: Back to the Future
Friday, October 01, 2021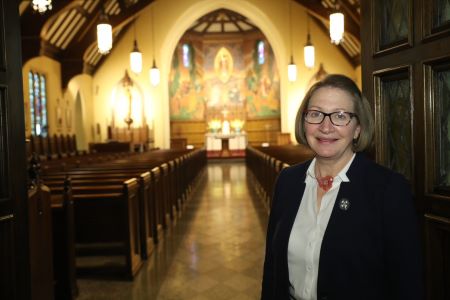 Mercyhurst University President Kathleen A. Getz, Ph.D., will be part of a panel headlined "New Faces: Community Leadership" when the Erie Regional Chamber and Growth Partnership hosts Erie Homecoming 2021: Back to the Future at the Bayfront Convention Center Oct. 4-5.
Joining Getz will be Karen Bilowith, president, Erie Community Foundation; Dr. Chris Gray, president, Erie County Community College; and Dr. Dale-Elizabeth Pehrsson, president, Edinboro University. The panel discussion will be moderated by Kim Thomas.
The two-day event gives attendees the opportunity to connect with local leaders and community advocates during conference sessions, collaborative conversations, and immersive experiences, and consider investing in projects driving the region's momentum.
Brian Fuller, director of operations for the Ridge College of Intelligence Studies and Applied Sciences at Mercyhurst, will be among the panelists at a session on the NWPA Innovation Beehive, a collaborative effort of local universities and Blasco Public Library. Representing the Beehive for Gannon University is Brad Gleason; Jake Marsh, Penn State Behrend; Tony Peyronel, Edinboro University; and Patrick Moran for the library. The Beehive works with startups and established businesses to provide access to free resources across Northwestern Pennsylvania.