Fulbrights arrive on campus after year of teaching languages via Zoom
Thursday, September 16, 2021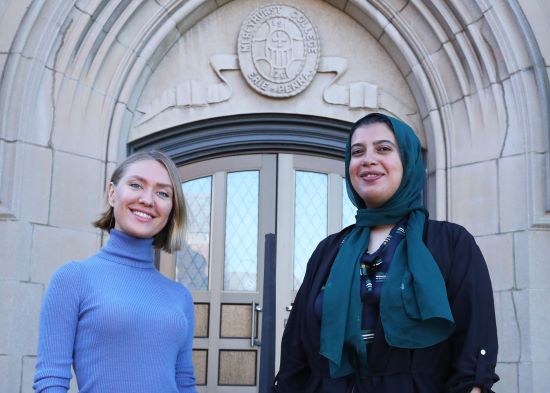 Teaching remotely has its challenges, but perhaps none more so than teaching Russian from St. Petersburg and Arabic from Cairo to students stateside.
That was the task of Fulbright Foreign Language Teaching Assistants (FLTA) Kristina Smagina and Nada Soliman assigned to Mercyhurst University last year during the pandemic. Now, for the first time, Fulbright is allowing FLTAs a second year on their grants to make up for the year spent teaching via Zoom.
So, back again, this time on campus, Smagina and Soliman are making the most of the immersive opportunity. As required, both are taking two classes per semester (one of which must be focused on American history) and working 20 hours a week. For her part, Smagina is teaching Russian; Soliman is tutoring Arabic and offering events on Egyptian culture.
Despite their own differences in attire, language, and life experience, the young women had the same reaction to Mercyhurst when they arrived in August.
"It was like coming home to family … I'm so grateful," said Smagina.
"As soon as I arrived, I thought, 'what a great campus, what wonderful people,'" added Soliman.
For Dr. Alice Edwards, chair of the Department of World Languages and Cultures, who has been overseeing the FLTA program at Mercyhurst for nearly two decades, it was a welcome she waited more than a year to deliver personally.
"We are so happy they are here," she said. "There's nothing like having highly trained native speakers interacting with our students."
With today's technology, you can convey the learning experience remotely, although it is not often ideal. But, when looking for a genuine connection with your students, that is far more difficult to achieve from a distance.
"It's the rapport that's most valuable," said Smagina, who besides learning the Russian language hopes her students take away a real knowledge of the culture, particularly of St. Petersburg where she is from. "Russia is such a large and diverse country, and the media tends to make Russia look dark … I want to give them another perspective."
Soliman feels likewise. "I want to establish a personal bond with students and give them something to remember," she said, sharing plans to teach them the Arab culture through food, music, costumes, and other presentations.
Meanwhile, Edwards said that for some time the focus at Mercyhurst has been on Fulbright assistants with skills in less commonly taught languages, like Russian and Arabic, which originally drew heavily on majors in intelligence studies but have expanded to include political science, history, anthropology, and public health.
Further, Fulbrights who teach the less common languages are funded by the federal government, and not the university, Edwards said. "We do get them a meal plan, though, so they can have more opportunities to interact with our students."
And students are interested in that kind of interaction, especially as they find that being fluent in more than one language opens doors to a greater number of potential employers in today's global marketplace, Edwards said. She recalled one of her graduates - an accounting major who minored in Spanish - was hired at Bayer, in part, because of her minor.
"Bayer had her learn German so she could work for them in Germany," Edwards said. "They figured if she could learn one language, she could learn another."
Being bilingual or multilingual has also been studied as a means to enhance cognitive functions like memory, critical thinking, and problem solving. Although she's not an expert in that area, Edwards agreed - who can argue with those perks?
A closer look at our Fulbrights
Kristina Smagina was born in born in Leningrad, USSR, (now St Petersburg, Russia), in 1989. At 16, she started guiding American students around St. Petersburg and worked with students from The Netherlands and Belgium giving guided tours in English and Russian. She studied at St. Petersburg State University to become a teacher of Russian as a Foreign Language and has an M.A. in Linguistics. Kristina taught English and Russian in Trento, Italy, studied in London, and has visited more than 30 countries.
Nada Soliman is 28 and works as an assistant lecturer at the Faculty of Arts, English Department, Cairo University. Nada was born and raised in Cairo and studied English Language and Literature at Cairo University. She holds an M.A. in English Literature and is currently a Ph.D. candidate working on Comparative Literature and Culture Studies. Nada loves driving, walking, and working out, especially Zumba. She enjoys music, especially jazz and classical music.
Their office is Preston 203. They can be reached at nsoliman@mercyhurst.edu and ksmagina@mercyhurst.edu.
PHOTO: (L-R) Kristina Smagina, Nada Soliman