From blue lights to blue desserts, AIM goes all out for World Autism Day
Wednesday, April 07, 2021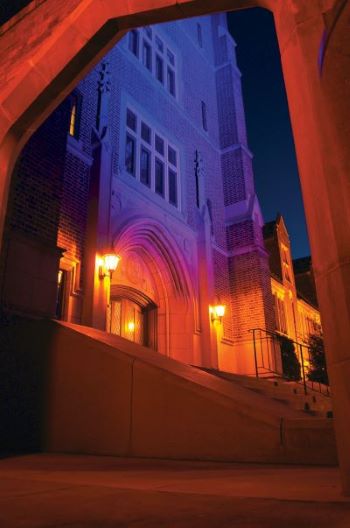 Mercyhurst University's iconic O'Neil Tower will be bathed in blue light Thursday evening to mark World Autism Awareness Day, capping a day of events organized by the Autism Initiative at Mercyhurst (AIM).
During the lunch hour, AIM students and staff will be in the Grotto Commons dining hall, distributing information about their nationally recognized program and other giveaways. Parkhurst Dining Services will continue the day's "blue" theme by serving blue-colored desserts.
In late afternoon, AIM students will enjoy an hourlong virtual meeting with Dr. Temple Grandin, perhaps the most famous living person with autism and a long-time friend of AIM. (Dr. Grandin has also scheduled a session with the Mercyhurst faculty on April 20 at which she'll discuss teaching students with autism.)
AIM Director Brad McGarry and his staff have also been invited to join leaders from around the world Thursday morning at a virtual celebration of World Autism Awareness Day.
With a theme of "Inclusion in the Workplace: Challenges and Opportunities in a Post-Pandemic World," the event will feature moderated panel discussions including individuals on the autism spectrum who have themselves experienced the challenges and seen these new opportunities in the employment market.
The annual observance is organized by the UN Department of Global Communications and UN Department of Economic and Social Affairs, in collaboration with the Specialisterne Foundation. Specialisterne is a not-for-profit foundation working to generate meaningful employment for one million autistic persons and other neurodivergent individuals.
Other special events are planned for AIM students throughout April, which is designated as Autism Awareness, Acceptance, and Appreciation Month.
AIM, which focuses on preparing its students for meaningful employment after graduation, regularly takes students on vocational awareness trips to New York City, Washington, D.C., and other sites. With travel out of the question due to the COVID-19 pandemic, AIM has instead invited leaders of major companies to meet virtually with students.
A grant from longtime AIM supporter Wells Fargo funded the series, which allows students to experience mentoring, mock interviews and resume review, as well as to discuss internship and employment opportunities. Besides Wells Fargo, sessions are scheduled this month with Microsoft, the Office of Disability Employment Policy, and others.
In addition, on April 15 AIM students will meet virtually with former Pennsylvania Gov. Tom Ridge to discuss neurodiversity and employment. Tom Ridge is the Chairman of the National Organization on Disability (NOD).
Mercyhurst introduced AIM in 2008 to meet the unique needs of the growing numbers of college students diagnosed with Autism Spectrum Disorders (ASD). AIM focuses on building a foundation of self-advocacy, social skills and sound academic progress, while its career services component helps AIM graduates be productive and successful beyond college.
Learn more via the AIM webpage.