Former limitations give way to innovations in university dining
Thursday, September 09, 2021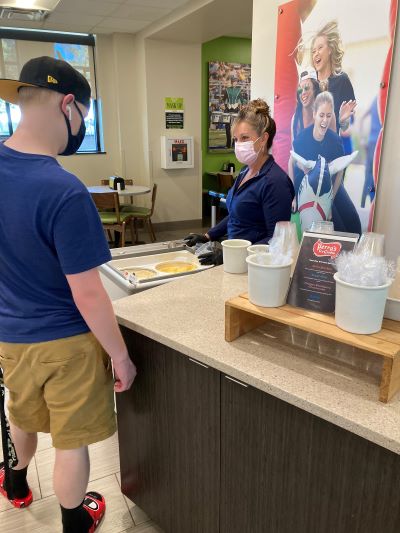 They're back!!! The panini press, green to-go boxes, smoothies and milkshakes in rotation at the Bravo station – life is yummy at Grotto Commons and other Mercyhurst dining locales. Not only are the old favorites back, but there are new options as well.
Although much has been gleaned and retained from the restrictions of COVID-19, intensive cleaning practices for one, limitations have given way to innovations this semester.
Parkhurst Dining Services, for instance, has joined a university-wide sustainability initiative raising fresh herbs and greens through a Tower Garden system. Tower Gardens are vertical garden structures that utilize aeroponic technology, which is the process of growing through an air or mist environment. They can be used year-round, either indoors or outdoors, and can grow a wide variety of vegetables, fruits, and herbs. The produce is being used in meal preparation, said Parkhurst Senior General Manager Katie Boyd.
Another new touch at Grotto Commons is offering porcelain mugs for enjoying coffee. Late-night options have also been expanded, including the addition of deli options and desserts on the salad bar, and allergy-friendly heat-and-eat meals.
Here are some other updates from Parkhurst that Boyd has shared:
501 Grille
Now carrying Crimson Cup flavored coffee in addition to Eat'n Park coffee. The coffee station has also added flavor pumps for guests to personalize their coffee.
This year the 501 Grille will feature two flavors of hand-rolled sushi daily.  Guests can view the daily menu in FoodU or the weekly online menu page.  
The Roost Express
To meet the ever-changing needs of the campus community, the Laker Inn has been replaced by the Roost Express, a mobile ordering location where guests can benefit from the convenience of ordering from breakfast and lunch menus through the GET mobile app. No more worrying about wait time between classes – orders will be ready for pick up at the scheduled time.
A variety of Grab and Go items are also available for purchase at the Roost Express pick-up window. No pre-ordering required.
Seating is available at Luke's Landing for those who wish to enjoy their meal while they socialize, study, or relax.
With expanded hours, the Roost Express is now open Monday through Friday from 9 a.m. to 3 p.m.  
The Roost
Karaoke and Trivia Nights are back this year. Karaoke happens on Mondays at 6 p.m. and Trivia on Wednesdays at 6 p.m.
New Island Oasis Slushies are now available. You can enjoy a mocktail or alcoholic version from a large menu of slushy flavors, including monthly specials. Mocktail Slushies are $3.99 and Alcoholic Slushies are $5.99.
Many safety precautions remain in effect. For instance, while the self-service ice cream station has been temporarily eliminated, Boyd scoops ice cream for students on Thursdays from 2 to 4 p.m. (SEE PHOTO)