Forensics contributes to identification of 'oldest remains'
Friday, December 03, 2021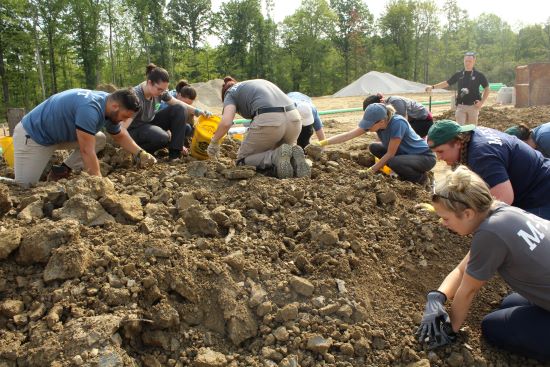 On Aug. 16, 2019, excavators unearthed a pine box on a real estate development site in Hudson, Ohio, just outside of Cleveland, that revealed skeletal human remains. 
As experts in the recovery and analysis of human remains from outdoor settings, known for their work throughout the tri-state area and beyond, Mercyhurst University's forensic anthropology team was called to assist. 
Although excavation had already commenced, Dr. Dennis Dirkmaat and his team of graduate students put their archaeological recovery protocols to work and were able to collect approximately 30 bones for analysis. Their examination suggested the partially fossilized remains belonged to a male between the ages of 40 and 70, and that he had been buried for at least 50 to 75 years – perhaps much longer.
Dirkmaat said the case was not "forensically significant," meaning it was not representative of a crime scene, but more of a burial site. "To us, it appeared that a man had been buried in a wooden coffin on an old farmstead," Dirkmaat said, and thus, the remains were returned to the coroner. 
In a surprising turn of events, the DNA Doe Project (DDP), a non-profit volunteer organization formed to identify unidentified deceased persons using forensic genealogy, continued to investigate and, just last month – more than two years since the finding – announced the remains as those of Richard Bunts/Bunce. According to the DDP, "these are the oldest remains volunteer genealogists have identified to date using investigative genetic genealogy."
Dirkmaat, likewise, agreed that these were the oldest remains he had ever worked on, and he has analyzed more than 1,200 cases over the past 30 years.
Bunts/Bunce was born in 1793 and died around 1852, which would have made him 59 at death, an estimate consistent with Mercyhurst's analysis. The DDP's investigation suggests he was buried on the property where he had lived with his wife, Annie, and several children. Bone samples were sent for DNA extraction and sequencing in February 2020, and in early January 2021 genealogy research began, which ultimately led to the man's identity.
PHOTO: Mercyhurst forensic anthropology team recovering remains at Hudson, Ohio, site.