Emily Blount shines as finalist in ATHENA Young Professional Award competition
Monday, October 18, 2021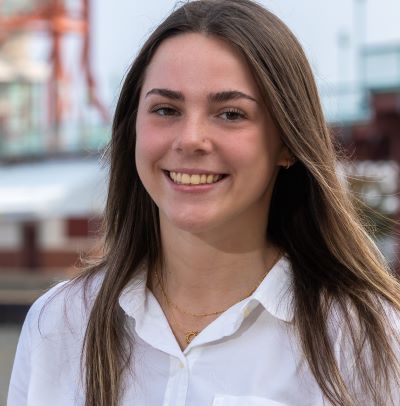 Congratulations to Mercyhurst University's Emily Blount, a senior sport business management major, who was recently honored as a finalist in the ATHENA Young Professional Award competition, which annually recognizes outstanding young students who have the potential to be future leaders.
Blount, a Waterford native, is also pursuing a minor in social media and web management and is a member of Phi Eta Sigma National Honor Society. A consistent Dean's List recipient, she currently holds a 3.9 GPA. She is a recipient of the Herrmann Merit Award and a Presidential Scholarship. She was also a member of a four-person team that took first place in the regional Case Study Competition sponsored by Living Sport through the Pennsylvania Sport Business Conference.
Besides her academic interests, Blount has been a member of the Athletics Operations Staff at Mercyhurst, and an associate at the university bookstore, and was selected for a coveted internship with the Erie Sports Commission last summer.
ATHENA Young Professional Award finalists are judged on the following qualities:
Demonstrate excellence, creativity, and initiative in their college community.
Provide valuable service by contributing time and energy to improve the quality of life for others in the community.
Serve as a role model for young women, personally, professionally and in their college community.
"I was excited to be able to represent Mercyhurst," Blount said. "Being in a male-dominated field can be challenging, so it was great to be able to connect with so many inspiring women in the Erie community."
Blount was nominated for the award by Dr. John Parente.