Eight new cadets contract with Pride of PA ROTC at Mercyhurst
Wednesday, September 22, 2021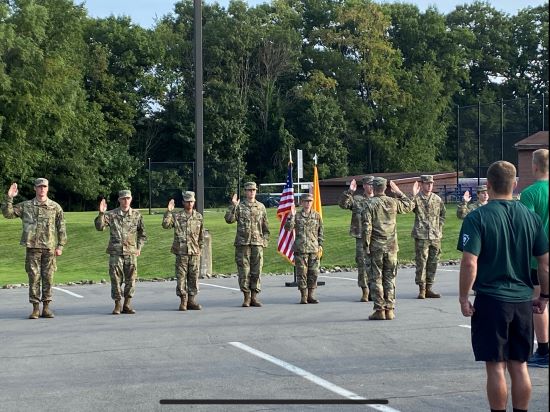 The Pride of Pennsylvania Reserve Officer Training Corps (ROTC) has announced the addition of eight new cadets to the program at Mercyhurst University, bringing the total cohort to 38.
"The Pride of Pennsylvania ROTC is one of the most demanding and successful leadership programs at Mercyhurst," said Captain Sergio Franco, assistant professor of Military Science and ROTC instructor. "The training a student receives in Army ROTC provides them leadership development, military skills, and career preparation."
Although students enrolled in ROTC are not committed to military service, only those students who meet the eligibility requirements and decide to contract will earn their commissions as second lieutenants in the United States Army.
Included in the new group are the following students, who were awarded National ROTC scholarships and are now contracted with the program: Cadet Theodore Counihan, Cadet Ryan Davey, Cadet Lillian English, Cadet Jackson Feiock, and Cadet Bethany Jentz. Cadet Alyssa Molek was awarded a two-year scholarship through the ROTC boards and is now contracted with Mercyhurst ROTC. Cadet Jack Rowell and Cadet Mariz Khalaf also met all eligibility requirements and have contracted with ROTC.
For any additional information about the Mercyhurst ROTC program, contact Captain Franco by email at sfranco@mercyhurst.edu or by phone at 915-831-0113.