Earth Day lecture addresses holistic approach to sustainability
Thursday, April 07, 2022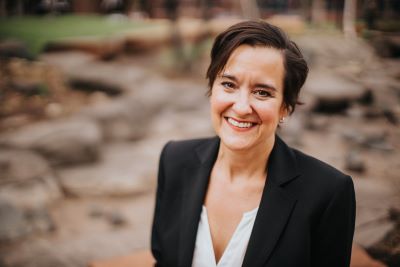 Lisa Britton, director of sales & marketing and sustainability champion for Industrial Louvers, Inc. (ILI), a leading manufacturer of custom architectural metal products, brings her message of sustainability in the construction industry to Mercyhurst University this month.
Britton will deliver the university's annual Sister Maura Smith Earth Day Lecture on Wednesday, April 27, at 7 p.m., in Mercy Heritage Room. Her talk—"Creating a Healthier Future Using a Holistic Approach to Sustainability"—is free and open to the public.
Throughout her nearly 30-year career, Britton has been a leader in the advancement of standards and formats in the construction industry, most recently in the areas of sustainability and product transparency.
"We're committed as a university to be more thoughtful about how to live and work more holistically and sustainably," said Colin Hurley, executive director of community engagement and sustainability manager at Mercyhurst. "It is a privilege to welcome Lisa Britton to Erie for an evening talk that will challenge, teach, and inspire us to be better stewards of our current resources while considering our own individual and institutional actions in light of future generations."
Prior to joining ILI, Britton was the president and founder of Alpar Architectural Products, LLC, where she led all aspects of the business, including strategy, management, operations, and sales and marketing. Most notably, Britton assembled a team of chemists and manufacturing partners to develop the first fire-rated, bio-based, and petroleum-free polymer for interior finish products. 
Britton is currently vice chair of the Health Product Declaration Collaborative's (HPDC's) Technical Committee and ex-officio board member of the organization. She served on the Healthy Affordable Materials Project (HAMP) Advisory Board, and her involvement in the Minnesota Chapter of the U.S. Green Building Council includes five years on the board of directors.
The lecture is sponsored by the university's Sustainability Office, Office for Mission, and Evelyn Lincoln Institute for Ethics & Society. For more information, contact Colin Hurley at churley@mercyhurst.edu.