Davis, Gotkin, Kohlheim and Sisti receive contract extensions
Monday, June 28, 2021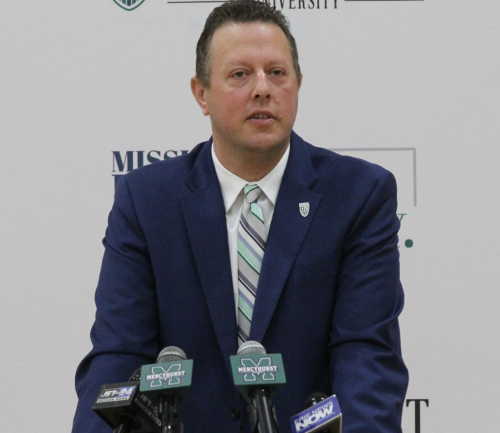 Mercyhurst Athletics announced contract extensions for Director of Athletics Brad Davis as well as men's hockey head coach Rick Gotkin, women's basketball head coach Brooklyn Kohlheim, and women's hockey head coach Michael Sisti.
"It is an exciting time for Mercyhurst Athletics as we prepare to resume normal operations this fall, while opening two facilities that will rank among the best in our region," said Davis. "The commitment from the University with this wave of extensions is an affirmation of the work we are doing as a department as well as that of these individuals."
Davis is set to enter his fourth year as the Director of Athletics at Mercyhurst. Davis has built on Mercyhurst's winning tradition while transforming the athletic department both physically and culturally. Over the past three years, every competition facility on campus has undergone significant renovations as a part of the Laker for Life Campaign, which has raised $10 million in just two years. Under Davis' leadership, enrollment and revenue have reached new highs, while his staff has prioritized the student-athlete experience and being a leading partner on campus.
"First, I would like to thank Interim President Joseph NeCastro and Vice President for Student Life Dr. Laura Zirkle for their continued belief in my vision for Mercyhurst Athletics," said Davis. "I am excited to work with incoming President Dr. Kathleen Getz in providing a premier student-athlete experience and continuing to grow Mercyhurst Athletics going forward."
Gotkin is set to start his 34th season behind the bench for the Lakers. One of the winningest coaches in college hockey history, Gotkin has recorded 572 career victories, six NCAA Tournament appearances and five league championships. In 2020-21, the young Laker squad scored eight wins with three coming against Top-20 competition. Three Laker players were named to Atlantic Hockey All-Conference teams.
"For the past 33 years, I have had the privilege of being part of tremendous growth and success with the men's ice hockey program at Mercyhurst University," said Gotkin. "Mentoring and coaching our student-athletes and watching their success both on and off the ice has been a very rewarding experience for me.  I would like to thank the University's leadership for this extension. I am excited to have the opportunity to continue to lead the successful tradition of the hockey program. "
Kohlheim is set to begin her third season at the helm of the women's basketball program. In the 2021 season, Kohlheim led the Lakers to their best start, 5-0, since the 2016-17 season. Mercyhurst finished with an 11-6 overall record playing an independent schedule after the PSAC cancelled the winter season due to COVID-19. The 11 wins marked the programs highest-win total since the 2016-17 campaign.
"I am beyond grateful that the administration and University have given me the opportunity to continue to lead this program," said Kohlheim, offering particular thanks to Brad Davis, Laura Zirkle, and interim President Joseph G. NeCastro. "In the short time our staff has been in Erie, we have been able to witness the growth and progress that is being made both in the department and surrounding campus. When we first started here, our goal was to surround ourselves with good people and strong women who want to build something special here. We wouldn't have been able to make these strides without our players buying into what and how we are doing things within the program."
Sisti enters his 23rd season and is the only head coach in Mercyhurst women's hockey history. Last season saw Sisti become just the second Division I women's hockey coach to reach the 500-win plateau. Under Sisti, Mercyhurst has won 17 regular season conference championships, 15 conference tournament championships and had a streak of 10 consecutive NCAA tournament appearances from 2004-2013.
"Over the years, I have been fortunate to have so much support from many people on campus and in the Erie Community," said Sisti. "We have built something very special here at Mercyhurst University and I've had terrific players and coaches who helped us achieve great success. I want to welcome President Getz to our University and thank Brad Davis, Laura Zirkle, our Board of Trustees, and our administration for their continued support of myself and the Mercyhurst women's ice hockey program. We are looking forward to this season with great excitement. I am thankful to continue to do what I love in Erie and at this wonderful University."
PHOTO: AD Brad Davis