Dancers collaborate to create water-themed film
Wednesday, August 26, 2020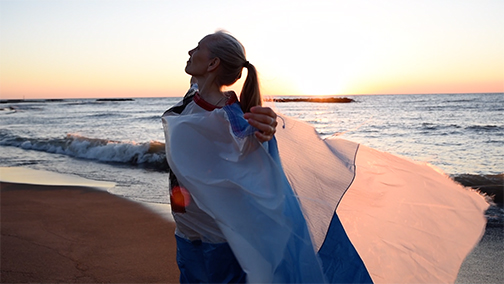 Mercyhurst Dance faculty members Solveig and Mark Santillano devoted much of their summer quarantine to a special project: an environmentally themed water dance film titled "Sands of Time, Bodies of Water." They'll share their Dance for Camera film via Zoom on Saturday, Aug. 29, at 7 p.m.
Also on hand for the screening will be Dr. Amy Parente of Mercyhurst's Chemistry Department. Her research into water pollution in the Erie region inspired the project, and she will co-host and answer questions regarding environmental concerns and her scientific data.
This film project was designed to replace National Water Dance Erie: The Ripple Effect, which brings dancers across the country together every other year to call attention to pressing issues regarding water in the United States. While many Mercyhurst students livestreamed their work during the national observance on April 18, the community event that had been planned was canceled due to COVID-19.
Water Dance Director Solveig Santillano instead invited local artists to collaborate on the Dance forCamera project, working in small groups and planning and rehearsing on Zoom throughout the summer. Mark Santillano served as cinematographer and editor, incorporating Presque Isle and Erie waterfront locations and featuring repeated and accelerated sunsets/sunrises and other effects to create a sense of urgency for enhanced water stewardship.
Composer Andy Hasenpflug created an original score. Visual art collaborator Heather Hertel designed the wearable art pieces worn by dance artists Hannah Borczon, Angela Difiore, Heather Hertel, Carla Hughes, Jo Theisen, Megan Sabatinni, Solveig Santillano, Andona Zacks-Jordan, and Sofia Polatas.
"Ultimately, this project provided a means for connecting despite isolated circumstances," Solveig Santillano said, "and an outlet for voicing deeply felt environmental social concerns."
In addition to the Santillanos' film, Saturday's screening will feature a solo work titled "Waves," performed by Mercyhurst Dance adjunct Angela Difiore to an original composition by her husband, Richard Difiore, music director and principal pianist for the dance department; and "Untitled, No. 27," created by Anthony Alterio, an assistant professor of dance at SUNY/Fredonia.
The project was funded by Erie Arts & Culture, Mercyhurst University, SoMar Dance Works, Heather Hertel, and the Erie Blues & Jazz Festival. The film was televised Aug. 2 as part of the virtual Erie Blues & Jazz Festival.
To attend Saturday's event, join using this Zoom meeting link. For more information, email Solveig Santillano at ssantillano@mercyhurst.edu.
PHOTO: Solveig Santillano