Celebration showcases hundreds of examples of faculty scholarship
Monday, April 08, 2019
A Celebration of Scholars will be held Thursday, April 11, at Mercyhurst University to recognize scholarly activities of Mercyhurst faculty members during 2108.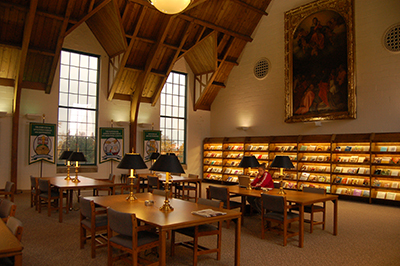 The annual event is sponsored by the Faculty Scholarship Committee, with support from President Michael Victor, Provost Leanne Roberts, and the deans of Mercyhurst's four colleges. A report compiled by the committee includes hundreds of examples of faculty scholarship, from publications in books and peer-reviewed journals, to presentations delivered at local and regional conferences, to exhibits and performances.
"Taking the time to celebrate scholarship and research is important," noted Dr. Richard McCarty, who chairs the Faculty Scholarship Committee. "The production of scholarship not only raises the professional profile of individual faculty, it also raises the profile of the university as a whole." 
Dr. Alice Edwards will host the reception, which begins at 3:30 p.m. in the Mercy Heritage Room. She'll discuss the charge and work of the Faculty Scholarship Committee, and introduce several faculty members to briefly discuss their 2018 scholarly activities and the impact of such scholarship on their teaching.
Speakers will include:
•    Jodi Staniunas Hopper, associate professor of Graphic Design, on her forthcoming book on Adobe.
•    Jeff Roessner, professor of English, on his recent work on music and literature (which led to an invitation to speak at a conference in Vienna on the topic).
•    Orlandrew Danzell, associate professor of Intelligence Studies, on his recent publications.
•    Adrienne Foos, assistant professor of Marketing , on her recent research.
•    Robert Chetlin, assistant professor of Sports Medicine, on his research with undergraduates that leads to publication (now researching injuries to the elbows of elite pitchers).
All are invited to celebrate the work of the Mercyhurst faculty.  Food and drink will be provided, 
In addition to McCarty and Edwards, the Faculty Scholarship Committee includes Adrienne Foos, Joseph Johnson, Tom Hubert, Orlandrew Danzell, and Nick Lang.