Celebrate diversity at student art exhibit, Mosaic of Life
Tuesday, March 01, 2022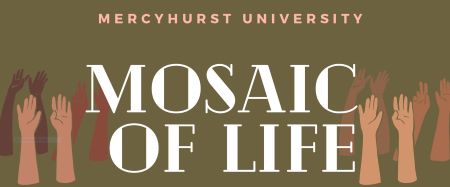 Art is a powerful catalyst for promoting diversity, which goes to the heart of an upcoming exhibit, Mosaic of Life, hosted by the art therapy department and multicultural and inclusion office at Mercyhurst University, headed by Heather Denning and Jessica Hubert, respectively.
As a community of various races, ages, genders, sexual orientations, religions, and socio-economic backgrounds, the art exhibit will focus on images that make us unique and reflect our humanity as a Mosaic of Life.
Participation is open to all Mercyhurst students, either as individuals or as groups. Submissions will be accepted March 21-28 for the one-day-only event slated for Thursday, April 7, in the Student Union Great Room. A reception will accompany the viewing from 4:30 to 7 p.m. The organizers said their goal is to show the beauty of diversity on the Mercyhurst campus and to celebrate it together.
Mosaic of Life is another manifestation of the work supported by the new President's Advisory Council on Diversity, Equity, Inclusion, and Justice, founded by Mercyhurst President Kathleen A. Getz, Ph.D.