Campus community prepares to celebrate Mercy Week 2020
Tuesday, September 15, 2020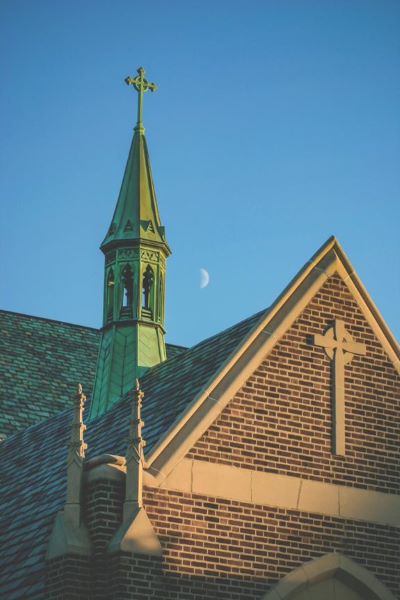 Sept. 24 marks Mercy Day, a day revered by Mercyhurst University and all Mercy institutions.
According to Catholic tradition, Mercy Day is the feast of Our Lady of Mercy, the patroness of the Sisters of Mercy. On this same date in 1827 in Dublin, Ireland, Catherine McAuley opened the House of Mercy, a home to shelter and educate young girls. This house would be the foundation for the Sisters of Mercy and 17 U.S. colleges and universities, including ours. 
Today's Sisters uphold the values that Catherine McAuley espoused: spirituality, community, service, and social justice.
Mercyhurst, founded by the Sisters in 1926, works to honor those same tenets and will devote an entire week – Sept. 21-25 – in observance of this cornerstone of our history. 
This year, Mercy Week features programming designed to bring our campus community together as we pay homage to our Mercy roots and apply those inherent values to our modern-day lives, explained Dr. Greg Baker, vice president for mission. In light of the ongoing COVID-19 pandemic and significant social justice concerns, this marks a most timely observance.
"Mercy colleges and universities across the country and Mercy-affiliated ministries around the world will join in celebration this week," Baker said. "This Mercy is not ours – it comes from God – yet we continue to marvel at how communities of people can work together to share Mercy and make this world more compassionate and just."
Some of the week's events will be in person, although socially distant, while others will be conveyed virtually. 
"I am excited that the adaptations we have needed to make this year, such as moving the Mass of the Holy Spirit to livestream, have opened up new possibilities," Baker said. "Alumni can join us in prayer from afar and Sisters who otherwise would not make it to campus can join us as well."
SCHEDULE OF EVENTS
MONDAY 9/21
Mercy March for Black Lives
The Grotto, 7-8 p.m.
One of the five Critical Concerns of the Sisters of Mercy is "Racism." The Sisters seek to mobilize individuals in recognizing and dismantling institutional racism in order to become an anti-racist multicultural community. Toward that goal, the university will host the Mercy March for Black Lives where students and employees can gather to learn more about racial justice concerns. Led by Black Students for Unity (BSU), participants will gather outdoors at The Grotto and walk parts of campus, stopping periodically to listen to a BSU speaker. The event will conclude with a candlelight prayer service in front of Old Main led by Campus Minister Sister Natalie Rossi. (Campus Minister Michelle Scully and student Janiece Withers are organizing this event.)
TUESDAY 9/22
Encourage an Employee Day 
Take a few moments to encourage one of your colleagues through the Encourage an Employee program. You can find a link in The Morning Buzz that will allow you to send an email anonymously or you may sign it. This is a chance for us to show mercy to one another as we know the start of the year has been good, but filled with moments of extra work and effort. (Organizer is Jenell Patton, assistant director of Campus Ministry.)
THURSDAY 9/24
Mass of the Holy Spirit (Mercy Day)
Christ the King Chapel, 4 p.m., via YouTube Livestream
Because of the pandemic, only those with a direct role in the liturgy will gather in Christ the King Chapel for this year's Mass of the Holy Spirit. The mass will be livestreamed and can be accessed via this YouTube link. Where possible, students and employees are encouraged to gather at socially distant "watch parties."
This year's celebrant and homilist is the Rev. Christopher J. Singer, JCL. Fr. Singer, a native of Oil City, currently serves as the diocesan chancellor and as the spiritual director of St. Mark Seminary in Erie. He completed studies at the Pontifical North American College in Rome and was then ordained a priest for the Diocese of Erie. He is also a graduate of Catholic University in Washington D.C., where he earned a degree in Canon Law.
Sept. 24 is also the 150th anniversary of the founding of the local Sisters' community in Titusville, a community that would ultimately expand to Erie. Campus Ministry will use the occasion to educate the college community about the five Critical Concerns of the Sisters of Mercy – Earth, Immigration, Nonviolence, Racism, and Women – and encourage them to note their commitment through an online form, explaining how they intend to live the message of at least one of the concerns this year. Some of these messages will be used to decorate a Mercy Cross, and the rest will be collected along with thank you cards to be shared with the Sisters of Mercy. (Organizers are Fr. Jim Piszker, chaplain and interim director of Campus Ministry, and Michelle Scully.)
FRIDAY 9/25
Commissioning Ceremony for Student Emissaries
The Grotto (in case of rain: Christ the King Chapel), 3 p.m.
The first-ever student cohort of the Mercy Emissary program will gather to receive their pins and be commissioned as Emissaries to extend Mercy to our campus and our world. (Organizer is Greg Baker.)
A special note: With National Voter Registration Day landing on Tuesday, Sept. 22, the university will also host a voter education and registration week Sept. 21-25. (Community Engagement Director Colin Hurley is coordinating this event.)