Big names, big opportunities for intel students
Saturday, January 30, 2021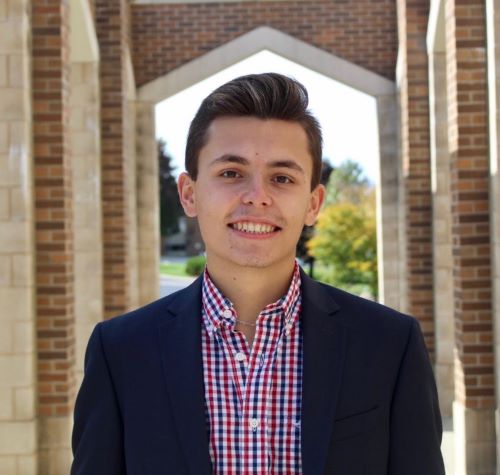 Name dropping may be frowned upon in some circles, but when students of the Ridge College of Intelligence Studies and Applied Sciences talk about the company they keep, it's impossible to avoid.
Amazon, Pfizer, U.S. Department of State, Johns Hopkins University . . . and that's just a sampling of the organizations that Ridge College students work with on projects.
These opportunities are created through the Center for Intelligence Research Analysis and Training (CIRAT), a nonprofit arm of Mercyhurst that develops alliances with business and government entities through contracts, grants, and academic partnerships to deliver projects of mutual benefit. 
This real-world enterprise enhances the skills and professionalizes the capabilities of intelligence studies and computer information students, making them more competitive in the job market. Last year alone, 345 students were employed on 13 projects.
Nicholas Brodfuehrer (in photo at right) was one of them. He worked on a contract project with Johns Hopkins University Applied Physics Laboratory (APL), which provides analysis and expertise to the government to ensure the reliability of complex technologies that safeguard national security. This spring, the Hamburg, New York, native will intern as an intelligence analyst for Pfizer's Global Security Operations Center.
Details about most of these projects are proprietary, but Nick said he has talked to other Mercyhurst students who have had the opportunity to work for Pfizer who said their experience was so rewarding that they changed career paths. They had wanted to work in the government sector, but decided instead to put their intelligence skills to work for private industry, he said.
As a double major in intelligence studies and political science, Nick is keeping his options open. "Originally, I thought of working for the FBI, and I've considered running for office; maybe I'll change my mind after this spring's experience."
It's nice to have options, said Nick, who came to Mercyhurst specifically to pursue intelligence studies. "I had talked to graduates and knew how good Mercyhurst's intelligence program was; plus the campus is beautiful and the people are amazing," he said. He did not, however, realize the level of professional opportunities that would be available to him through Mercyhurst.
"Being the premier intel school in the nation carries a reputation in the public and private sectors that attracts businesses and agencies in these fields that want to partner with Mercyhurst's Ridge College," said Ridge College Director of Operations Brian Fuller. "It's also our faculty and staff connections in the intel community and the respect they have earned that is attractive to potential clients."
Fuller said that the collaborations yield significant outcomes for students, including graduate students who are often hired as team leaders on projects. Second-year intel grad student Stephanie Pintabona of Buffalo, New York, is one of them.
She is team leader at the university's Innovation Entente Lab, which produces market analysis and other competitive intelligence products for entrepreneurial clients seeking to start or expand their businesses.  Mercyhurst's lab is part of the Northwest Pennsylvania Innovation Beehive Network, through which it collaborates with Gannon University, Penn State Behrend, Edinboro University and the Blasco Library to serve clients.
Stephanie said she benefits from transitioning her skills from the classroom to direct engagement with genuine clients. She also works with Nick, who is employed as an analyst at the lab.
"It gives me the chance to communicate with real-world professionals and to show my leadership experience in managing and organizing a variety of different projects for our clients," she said. "We receive letters of recommendation from clients on some of the projects, which is beneficial when applying for jobs." 
Speaking of jobs, Stephanie graduated from Daemen College with a degree in international business and came to Mercyhurst based on the intel program's reputation and placement rate. "I knew someone from Mercyhurst's program who got a job right out of college … and have learned about so many more graduates who are working in the intelligence community," she said, adding that her goal is to work for the government in the area of national security. 
Besides employing undergraduate and graduate students on projects, Mercyhurst professors often serve as principal investigators on them, exposing clients to a diverse array of subject-matter experts, another mutual advantage.