Applause!
Monday, May 13, 2019
Sarah Bennett, chair of the biology department and Mercyhurst sustainability officer, wrote a post for the Sisters of Mercy blog titled "Planting Seeds of Action at Mercyhurst University." Reflecting on her Environmental Problem Solving course, she noted, "I now realize that students must be empowered not only with knowledge of these issues but also with experiences that show how they can be part of the solutions." You can read the whole post here.   
Works by several members of Mercyhurst's art department faculty and staff were accepted into the Erie Art Museum's 96th annual Nicole and Harry Martin Spring Show, juried by internationally recognized sculptor Arthur Ganson. He selected 125 pieces from hundreds of artworks entered by nearly 500 artists from the tristate region. The show continues through Sept. 1. Pictured below are "Arrivals," acrylic, ink and mixed media on canvas, by Daniel Burke, professor of art; "Spalted Pashaco Leg Teapot," whiteware ceramic and spalted Pashaco hardwood, by Tom Hubert, professor and chair of art; and "I Can Sleep on the Floor," mixed media sculpture assemblage with paperclay, found objects, ashes, gold leaf, acrylics, reclaimed floorboards, wallpaper and matches, by Jessica Stadtmueller, director of Cummings Gallery. A photograph by Gary Cardot, assistant professor of art, was also featured in the show.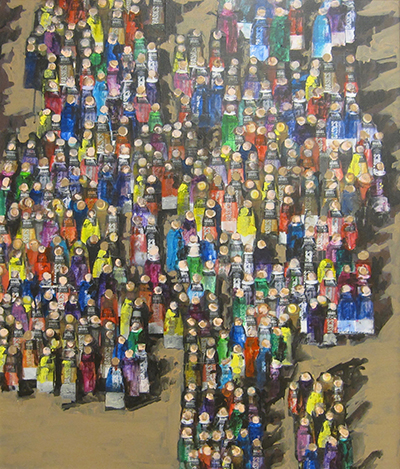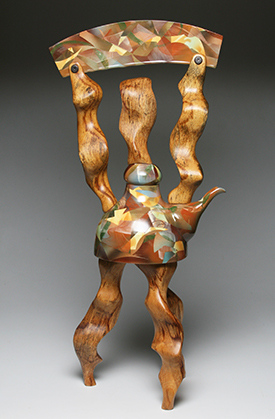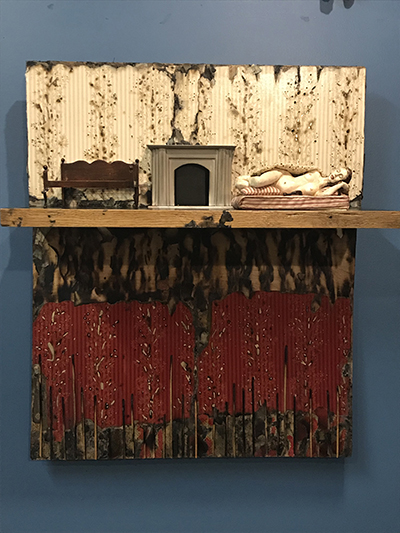 Chad Redmond, professor of mathematics and computer management information systems, presented a baseball analytics workshop at Cleveland State University on May 4 with Jim Albert of Bowling Green University. The morning session introduced basic data exploration techniques with the R programming language, a popular tool for data scientists and statisticians. The afternoon session explored Statcast data, which provides detailed pitch-by-pitch data including off-the-bat measures such as launch angle, exit velocity, and spray angle. The event was sponsored by the American Statistical Association.  
Dr. Edward Jolie, assistant professor of anthropology/archaeology, gave a public talk titled "Archaeology and Woven Artifacts at Chaco Canyon, New Mexico, U.S.A., a UNESCO World Heritage Site" on April 23, during his faculty-led study abroad trip with Mercyhurst students in Dungarvan, Ireland, The talk focused on recent developments in Chaco Canyon archaeology, such as insights from artifact, residue and ancient DNA analyses, and offered local residents in Ireland a glimpse of what was going on in the American Southwest ca. AD 800-1300, when much of the Medieval architecture that survives in and around Dungarvan was being built. More than two dozen were in attendance. Proceeds from the talk will go toward further archaeological research at Gallows Hill, Dungarvan, a community-driven research project supported by the Waterford County Museum.
The Department of Criminology & Criminal Justice was well represented at the 56th annual meeting of the Academy of Criminal Justice Sciences (ACJS) in Baltimore, Maryland. Dr. Adam Saeler, assistant professor of criminal justice, presented a paper on "Deterrence Theory and Probation: Does A Zero Tolerance Policy Reduce Recidivism?" in a panel session. Dr. EmmaLeigh Kirchner, assistant professor of criminal justice, presented a paper titled "Public Opinion and the Death Penalty in the 21st Century" on a panel with two of her undergraduate students, Taylor Tharp and Gabbie Kendall. Ally Fratus, an undergraduate criminal justice student, is pictured below with the poster she presented on her her research titled "The Impact of Visitation on Prison Violence." Dr. Maria Garase, associate professor of criminal justice and advisor of Alpha Phi Sigma, attended panel presentations and met with potential graduate students as part of the Alpha Phi Sigma mini-conference. Dr. Pete Benekos, professor emeritus, also pictured below, presented a co-authored paper with Dr. Alida Merlo, Indiana University of PA, titled "Transformation in Juvenile Justice: Prevention, Trauma-Informed Care, and Future Directions." From a related project, they also published an article in the March 2019 issue of ACJS Today titled "Can Trauma-Informed Care Transform Juvenile Justice? Initiatives and Challenges." Dr. Benekos also completed his three-year term on the Executive Board. He was Trustee-at-Large of the Academy and was recognized during the Awards Luncheon.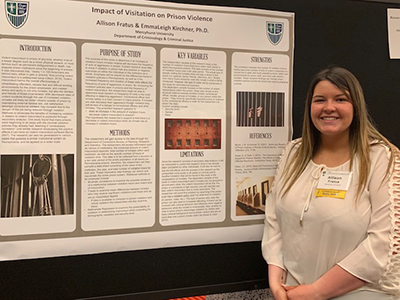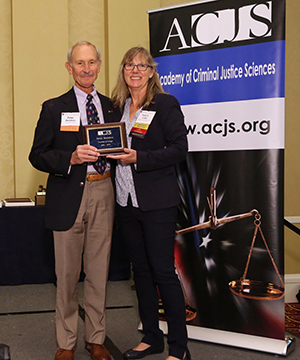 Dr. Adam Saeler, assistant professor of criminal justice, traveled to Washington, D.C., with nine students in his Race, Crime, and Justice class in an effort to expose those students to the real-world intersection of race and criminal justice. While in Washington, the group toured the White House, the Capitol, the National Holocaust Museum, the National Law Enforcement Museum and other sites. Dr. Saeler and his students were accompanied by Dr. EmmaLeigh Kirchner, assistant professor of criminal justice.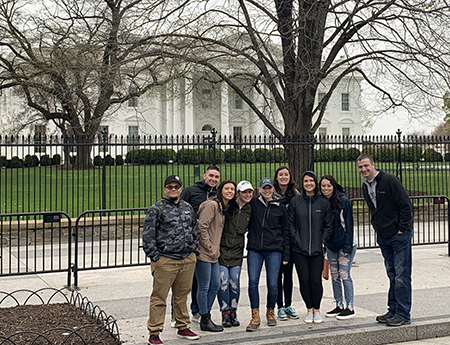 Since February, several Mercyhurst students have been meeting and talking with college-aged students from the Multicultural Community Resource Center who might aspire to attend college. They concluded the term with a trip to the Allegheny National Forest with the group, which included teens and young adult refugees from Syria, Iraq, Nepal, Bhutan, Uganda, the Congo, and Puerto Rico. Read the Warren Times Observer report of their visit. 
Dr. Adam Saeler, assistant professor of criminal justice, appeared on Next with Marcus Atkinson on WQLN. The topic of the discussion, which was aired on WQLN on March 24, was gentrification and whether Erie was likely to suffer from the negative impact often associated with gentrification. Dr. Saeler discussed the historical context of gentrification, the practice of redlining, what community revitalization means with regard to crime, and his experience with the Byrne Criminal Justice Initiative.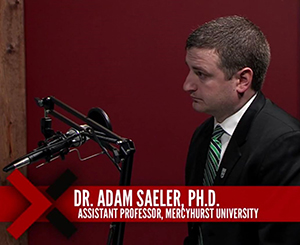 Dr. Verna Marina Ehret, associate professor of religious studies, recently published an article in the journal Religions titled "Contemporary Religious Changes in the U.S.: Responses to the Fracturing of Religious Life." This article was developed in part through work she undertook with Religious Studies students in her RLST 310: Evolving Religion class.
Kimberly Zacherl, assistant professor of business, attended the Society for Human Resource Management Conference in Cleveland, Ohio, in March. Sessions attended include "How to Create Positive Cultural Shifts," "Recruit and Retain Talent through Word-of-Mouth," "Employee Resource Groups: Social to Strategic," and "The Science of Delivering Tough Messages." She also attended a luncheon with keynote speaker Mark Murphy, a New York Times bestselling author and contributor to Forbes and LinkedIn. His keynote speech was from his recent book about leadership styles. This session provided the science and tools to rationally lead people and for them to accept change.