Anti-Human Trafficking Coalition Force making gains despite pandemic
Friday, October 16, 2020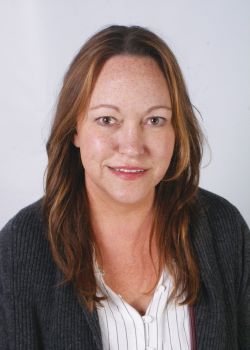 Members of Erie's Anti-Human Trafficking Coalition Force, led by Mercyhurst University, heard survivor Hope Lloyd of North Carolina speak about the 13 years she was trafficked and her mission to equip women in similar circumstances with the physical and mental strength to move on with their lives. 
Lloyd spoke during the coalition's Zoom session on Thursday, Oct. 15, at 10 a.m., said Coalition Coordinator Deb Davies, an instructor of intelligence studies at Mercyhurst and former CIA strategist.
"She is an amazing woman, and I think hearing her speak was a unique opportunity for many of us, and invaluable in our efforts to combat human trafficking," Davies said.
The coalition, formed in August 2019 with 30 members, now has more than 150 representing such agencies as the Mayor's Office, County Executive, State Attorney General, Erie County District Attorney, FBI, Department of Human Services, Crime Victim Center, Sisters of St. Joseph, SafeNet, and Erie Dawn. The group's intent is to pool their collective resources to answer questions like: what are the trends locally, what do each of our organizations do to combat human trafficking, what are our greatest obstacles, and how can the coalition work together to facilitate change?
As with everyone, Davies noted, the coalition has had to adjust to restrictions surrounding the COVID-19 pandemic and can no longer meet in person. For the time being, members meet virtually once a month. 
"Though still a bit too early for statistics, some patterns indicate changes in how victims are either self-reporting or being reported by third parties," Davies said. "Unfortunately, though, with greater amounts of people being shut-in, there are fewer opportunities for victims to seek help outside their home environment through personal contact, such as with school teachers."
For those trapped at home in a bad situation, she said, victims may feel little hope or opportunities to open up to others, which is especially true for children in a trafficked environment.  
"We are learning from each other, and will continue to, so we can hopefully make more significant change going forward," she said. 
PHOTO: Instructor Deb Davies