Anthro alumni search for answers in high-profile forensics cases
Monday, September 23, 2019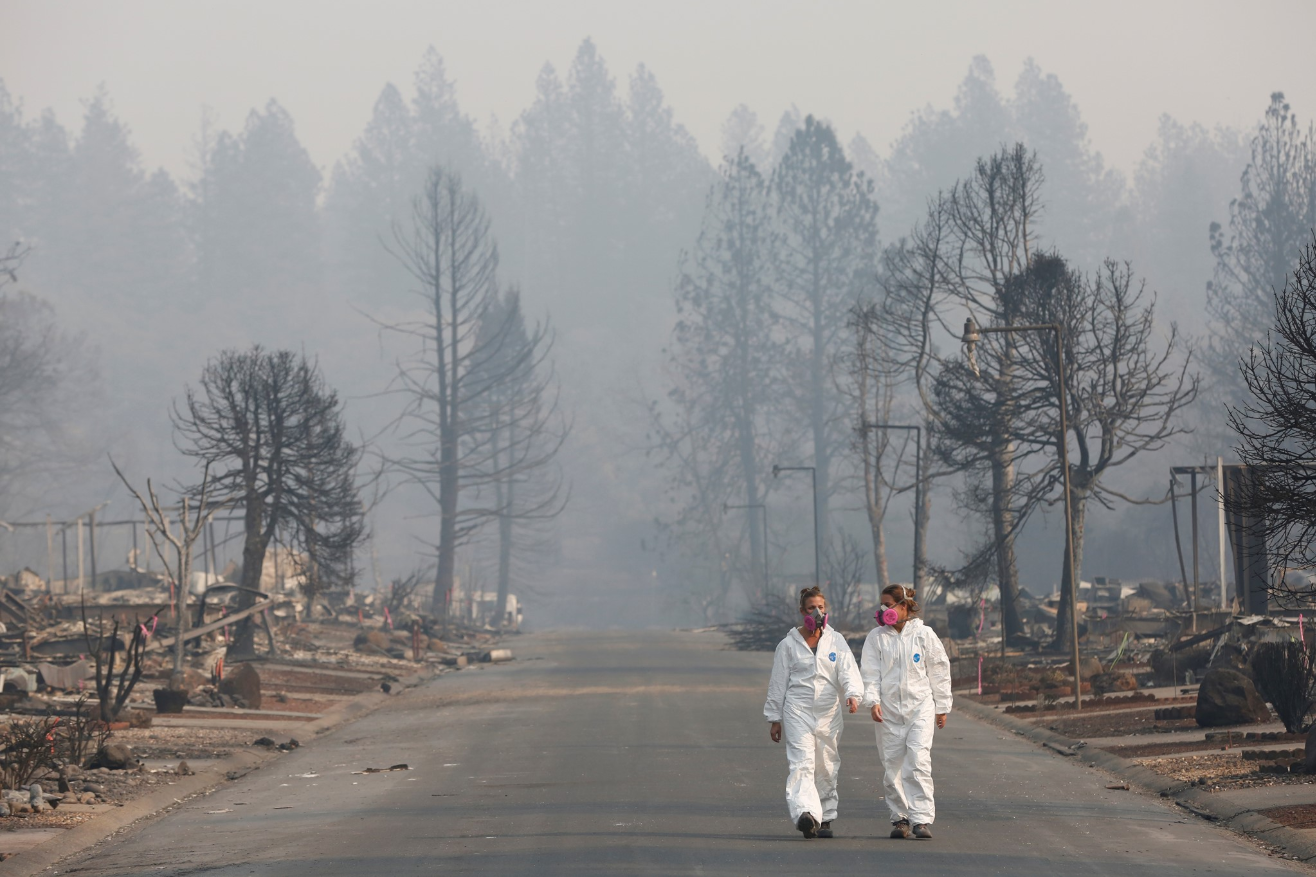 They are helpless to stave off a hurricane, a wild fire, or a drug deal turned deadly, but they are there in the grisly after-effects that define their work as forensic anthropologists.
Many graduates of Mercyhurst University's master's degree program in the Department of Applied Forensic Sciences are doing the kind of field work that Dr. Dennis Dirkmaat and his colleagues prepared them to do in analyzing skeletal remains. Are they human? If so, was the person male or female? What about age, stature, geographic ancestry, and probable cause of death? They call it the "biological profile."
In the past year, a handful of those grads have been busy with high-profile cases. Last winter, Dirkmaat and alumnae Andrea Ost and Rhian Dunn, who spent the 2018-2019 academic year teaching in the same program from which they graduated, traveled to San Juan, Puerto Rico, to put their skills to work in the morgue.
Budget cuts in the aftermath of Hurricane Maria (September 2017) left an overcrowded morgue and depleted professional staff to identify victims of the most destructive hurricane to hit Puerto Rico in modern times. Dirkmaat was among the sought-after experts called upon to help by the American Society of Crime Laboratory Directors (ASCLD) and National Association of Attorneys General (NAAG).
He, Ost, and Dunn volunteered their time and made the trip with five other board-certified forensic anthropologists, hailing from Washington, D.C., Missouri, Texas, New York, and Louisiana.
As grad students at Mercyhurst, Dunn and Ost worked on dozens of cases, scenarios that typically included the retrieval of on-site remains and return to Mercyhurst for lab analysis. In San Juan, they worked five days straight, sunup to sundown, in the disaster morgue, gratified that they were able to use their skills to help close the remaining 47 cases there.
Last fall, another Mercyhurst grad, Dr. Kyra Stull, was among a team tasked with identifying victims of the 215-square-mile Camp Fire in Paradise, California. Stull, who co-led a team of 10 students from the University of Nevada, Reno, where she is an assistant professor, is accustomed to identifying burn victims from her years at Mercyhurst and beyond. She earned her doctorate from the University of Pretoria in South Africa.
Still, she told USA Today, nothing in her catalogue of crime scenes and disasters approached the scope of the damage she witnessed at Paradise. "I've never experienced anything like that before," she said, although admittedly her Mercyhurst education was instrumental in preparing her.
"Dr. Dirkmaat established a program that had the perfect mix of hands-on experience and classroom-based knowledge that resulted in competent anthropologists," she said. "Additional experience working with the short courses he offered each summer enabled us to learn from and work with some of the best in the field as well as establish professional relationships."
Looking back, she said Mercyhurst offered more than a rigorous academic program; the camaraderie among the forensic anthropology faculty and cohorts had its own perks. "I still work with, publish with, and am friends with my colleagues from Mercyhurst," she said. "Not all graduate programs foster that type of relationship and collegiality. My experiences at Mercyhurst have definitely shaped how I run my own research lab today and how I interact with my students as well as encourage them to interact with one another."
Last year, another Mercyhurst grad, Erin Chapman '10, was the subject of a feature in The Buffalo News, about her unique role as a forensic anthropologist in the Erie County (New York) Medical Examiner's Office, and the many interesting cases she is called upon to evaluate, from bodies pulled from the lake and rivers around Buffalo to the remains of murder victims discovered in the woods.
"Chapman is one of a small number of anthropologists in the nation who works in a medical examiner's office," the Buff News noted. "Most medical examiners employ forensic pathologists who examine organs, soft tissues and bodily fluids to determine a cause of death. By contrast, forensic anthropologists study skeletal remains."
Unlike colleagues who have built careers in academia, Chapman derives satisfaction from being an asset to law enforcement, largely driven by her Mercyhurst experience where she said the opportunity to assist with active forensic casework is unmatched by any other institution. In fact, she was introduced to the staff of her current employer nearly 15 years ago through cases on which Dirkmaat's department had lent assistance.
Clearly, the nature of her work gives many people pause, and she's used to their bewilderment. "Each person has a role to fulfill and, although mine may not seem appealing to everyone, there are a number of careers that I am not emotionally equipped to perform," she said. "Learning to focus on the science helps me to remain as unbiased as possible and emotionally detached at some level. To best serve a deceased individual and their family, one must put feelings aside and focus on answering the important questions in order to bring a family the justice or answers they seek."
When it comes to niche academic programs at Mercyhurst, forensic anthropology gets its nod time and again for the volume of real cases students work on while attending college. Dirkmaat often reflects upon the year he welcomed a group of new grad students to the first day of class. He hadn't even learned their names when he told them to "pack up, we're going down state to process the scene of a plane crash."
And so it began ... and so it continues.
PHOTO: Forensic anthropologists Kyra Stull, left, and Tatiana Vlemincq walk through a trailer park destroyed by the Camp Fire in Paradise, California, on Nov. 17, 2018. (Reuters/Terray Sylvester)