Annual celebration abuzz with Beehive success stories
Tuesday, July 20, 2021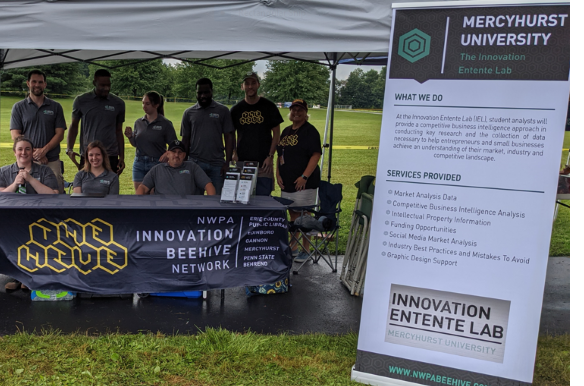 Local inventors and entrepreneurs will showcase the new products and companies they developed through the Northwest Pennsylvania Innovation Beehive Network when the network hosts its annual Beehive celebration event at Mercyhurst University on Thursday, July 29, from 4 to 7 p.m. 
Since its inception in 2014, the Beehive, comprised of the four local universities – Edinboro, Gannon, Mercyhurst, and Penn State Behrend, along with the recent addition of Blasco Library – has worked to enhance business expansion and development in Erie and the surrounding region. 
New Mercyhurst President Dr. Kathleen A. Getz is expected to make her first public appearance locally when she welcomes guests to the event, which provides the opportunity for Beehive members and clients to share the fruits of their labors with each other and with invited guests.
For its part, Mercyhurst will showcase its new Innovation Entente Lab (IEL), in which IEL team members help clients identify key marketing strategies, competitive business intelligence data, potential funding opportunities, strategic media options, and graphic design support. Since September 2019, the IEL has helped over 65 clients with their entrepreneurial and small business needs. The lab was made possible by a grant from the Erie County Gaming Revenue Authority.
"Our students gain valuable skills in networking as they interact with clients in a professional setting to provide clients with actionable intelligence," said IEL Director Brian Fuller. "The lab gives Mercyhurst an opportunity to interact with the community in a positive way by helping to build and strengthen the entrepreneurial ecosystem in our region."
Edinboro University's Center for Branding & Strategic Communication, which provides marketing services, digital design, and video production will highlight clients like Edinboro grads Hunter Klobucar and Tyler Waltenbaugh, co-founders of Fish Gods. They have launched the Clean Earth Bag, a reusable bag made specifically for outdoor enthusiasts to pick up, contain, and recycle plastic and garbage pollution they encounter while in the outdoors.
"The fortitude and focus that Hunter and Tyler have put behind their idea has combined with the services of the Beehive network to put them on the path to success. Of course, first as Edinboro students and now as alumni, we are doubly proud of them," said Dr. Tony Peyronel, executive director of the Center for Branding & Strategic Communication.
Gannon University's Beehive operation, the Center for Business Ingenuity, which provides business consulting and case-management service for entrepreneurs, will feature a half dozen of its key clients, among them Karen Thomas, owner of Pineapple Eddie's Jamaican Bistro Jerk Marinade, a local food creative known for her enterprise with sauces; and Jeremiah Brennin, CEO of Centric Technologies LLC, whose company provides managed IT services to businesses.
Student workers and staff from Penn State Behrend's Innovation Commons, a product design and rapid prototyping center, will showcase design projects that have led to market-ready products and patents. Innovation Commons has advanced projects for more than 160 entrepreneurs, companies and inventors since the lab opened in 2016. Staff will highlight the lab's newest service – app development with a focus on user experience.
Thanks to Blasco Library's Idea Lab, an adult maker space that offers free access to equipment and classes, Amelia Rigelman has parlayed a fun pastime into a business venture. After taking the lab's "Learn to 3D Print Class," she began experimenting with 3D modeling and design. One of her projects was designing 3D print cookie cutters that imitated customers' photographs. She's now testing her own 3D printed designs to make custom molds for chocolates.
"Amelia is just one example of what open access to technology can lead to," said Idea Lab Librarian Patrick Moran.
Many clients use multiple Beehive services, which all partners agree is a tribute to how collegially and effectively the universities and public library work together to improve the region's economy.