AmeriCorps VISTA Shannon Meyers has high hopes for Tower Garden
Thursday, February 11, 2021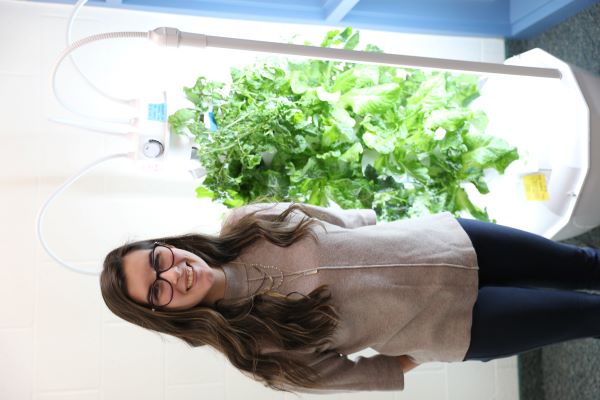 It looks like something out of Jack and the Beanstalk, but it's no fairy tale. On the contrary, it's a high-tech aeroponic growing system in the form of a Tower Garden (TG) that Mercyhurst is piloting to raise fresh vegetables indoors this winter.
Sparked by a grant from Mercyhurst's Sustainability Fund, several vertical tower systems have been assembled on campus as part of a Tower Garden Campus Supported Agriculture (CSA) program. One TG is on the third floor of the Hirt Academic Center, another is in the Campus Ministry office, and the third is on the second floor of Zurn Hall. There you'll find leafy greens like lettuce, arugula, spinach, and kale, along with cucumbers, green onions, and herbs like basil. In all, the Tower Gardens can support over 150 types of vegetables, fruit, and herbs; they cannot grow root vegetables, such as carrots.
The pilot program is intended to test the feasibility and sustainability of using TGs to address local food insecurity, increase access to fresh produce for students and employees, assess community outreach opportunities, and encourage hands-on educational opportunities.
Overseeing the program's day-to-day operation is Healthy Futures AmeriCorps VISTA Shannon Meyers of Columbus, Ohio, who graduated from Mercyhurst last year with a double major in public health and sustainability. She professes to having no green thumb and, more surprisingly, no experience gardening, although she does have something of a prophecy that may serve to explain her current occupation.
"When I was in seventh grade, my class took an aptitude test, and all my friends were getting results like doctor, dentist, and I got farmer," she recalled. "I was so annoyed. I went home and told my mother all my friends think I'm some kind of freak. Now, it's funny to look back because I am basically an indoor farmer."
Many of last year's college seniors, Shannon included, had a tough time navigating a weakened job market given COVID-19. "Here I was in public health and we were in the middle of a terrible public health crisis, and I couldn't do anything to help," she said. "It was frustrating."
So, when the AmeriCorps VISTA opportunity arose through Public Health Department Chair Dr. Maria Beatriz Torres, Shannon jumped at the chance to do something in her field and return to Mercyhurst. 
Nowadays, she can be found planting, pruning, and tending to the three TGs, which average five-to-six feet tall and are surrounded by LED lights on timers. Each TG is equipped with a lower reservoir holding water that, through use of a pump motor and tube system, rains water onto the plants.  Collectively, there are 92 ports through which the plants grow.
Shannon said the process takes around 30 to 40 days from seed to harvest, with the first on-campus distribution set for April. "We're going to be exploring how best to do this," she said. "Do we give people full plants or just samples?  I'm going to use Mercyhurst as the testing ground, let the mistakes be mine, and then, hopefully, start using the towers more efficiently here and even loan them out to our neighborhood schools."
That's the real goal post-COVID, she said, to do a good job on campus so Mercyhurst can introduce the towers into the community – including organizations serving the poorest segments of the local population – and use them in the fight against food insecurity.
Shannon also has big dreams of engaging different academic disciplines on campus. "I don't want this to be limited to the health sciences," she said. "I see chemistry students being able to study the nutrients in our produce and compare to grocery store produce; I have hopes of working with anthropology on different cultures and native foods and trying to grow them here. Inclusivity is an important part of this project."
A perk of her job, she said, is that the greens she grows are far tastier than those she buys at the grocery store.
"There's no comparison," she said. "I always thought lettuce was just a watery leaf, but when I put a piece of the lettuce I grew on a burger, I could really taste it - and it was delicious."
Anyone interested in opportunities associated with the Tower Garden program is encouraged to reach out to Shannon at smeyers@mercyhurst.edu. In addition to Dr. Torres, Shannon also thanks Colin Hurley, executive director of Community Engagement, for his support of the new initiative.