Alumna Maggie Switzer injects Peruvian experience in students' virtual class
Tuesday, April 14, 2020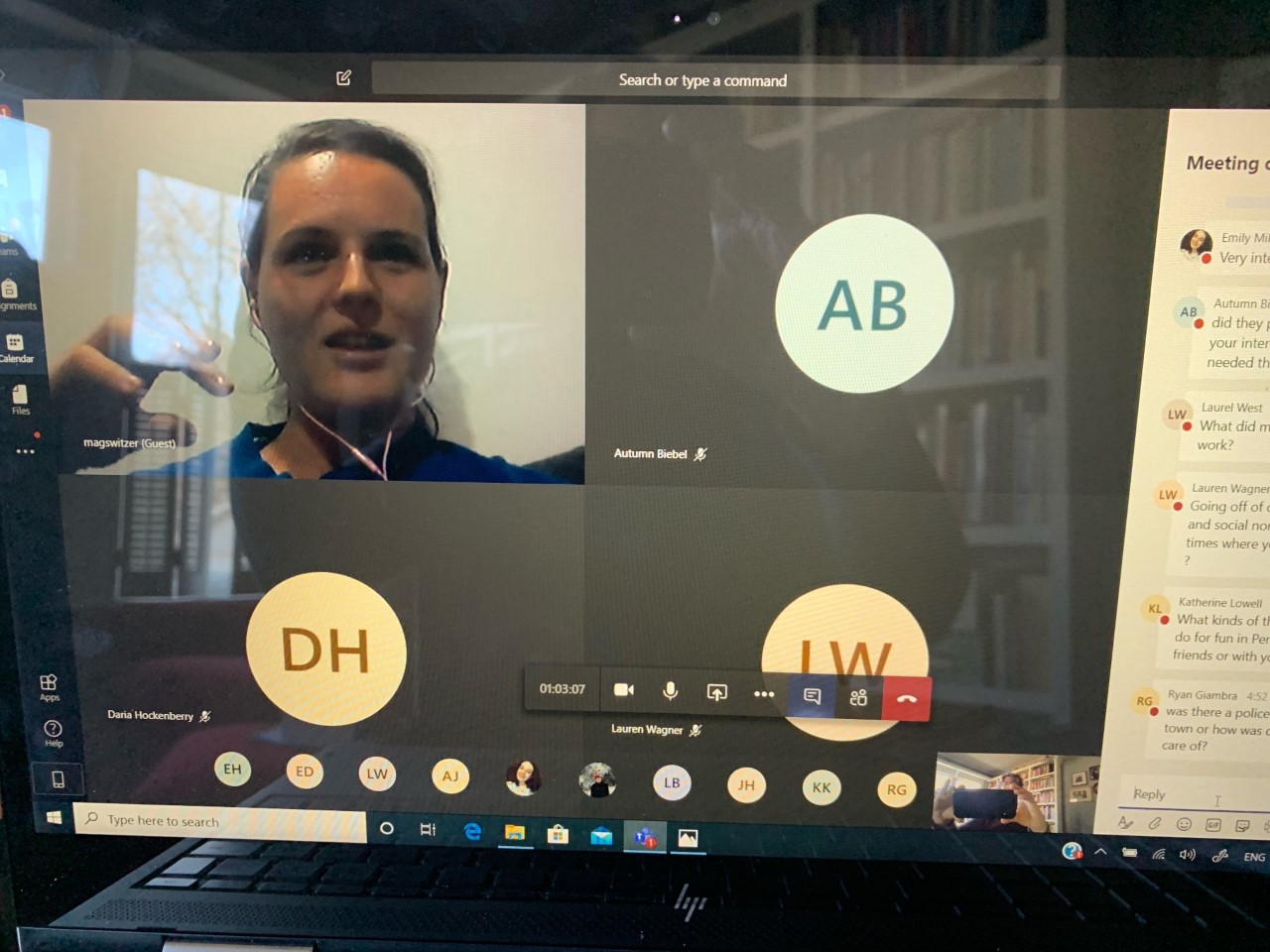 Mercyhurst Spanish Professor Alice Edwards' Latin American Culture course was to culminate in a 10-day trip to Peru this spring. Mercyhurst alumna Maggie Switzer was working as a Peace Corps volunteer in Peru before she was abruptly summoned back to the states in late March. In both cases, the COVID-19 pandemic had upended their plans.
But, like so many among the Mercyhurst community who have come to grips with this kind of disappointment, Edwards and Switzer found a way to turn their misfortune into a gratifying experience.
For the past several weeks, Edwards and her class have met synchronously through Microsoft Teams, twice a week, slowly making their way through the textbook, studying the geography, history, and culture of a country that seemed very far away.
To personalize and breathe life into the materials she was sharing, Edwards reached out to Switzer. A 2016 graduate with a major in Social Work and minor in Spanish, Switzer had been stationed in Peru for the past two years. She had much to share. Using the virtual platform, she talked about her experiences in the Peace Corps and about life in Peru.
The students, Edwards said, weren't short on questions. "They asked about llamas, eating guinea pigs, the culture of indigenous groups, and safety issues," she said. "And Maggie answered candidly, explaining that llamas are just in tourist areas – certainly not in the jungle area where she lived. And, yes, she ate guinea pigs, which taste like 'greasy chicken' but are delicious. She added that indigenous cultures are evident throughout Peru, and that she felt very safe in the country, except for the threat of the street dogs."
In enlightening Edwards' students, Switzer also helped to fulfill a requirement of her tenure in the Peace Corps, which is to share its mission and her personal experiences with U.S. communities.
"I think Maggie was happy to have somewhere to share her experience personally, to work through the meaning of her work there, and her sadness at her abrupt departure," Edwards said.
Switzer agreed, adding that she could personally identify with the students' disappointment in not being able to travel to Peru. "I also felt the heartbreak of COVID-19 in that it caused my abrupt departure from Peru, where I do truly feel a piece of me will stay," she said. "The opportunity to speak with the students was really great, because it gave me a chance to prattle on about a place I had become so passionate about, a place that really felt like home after having lived there for two years. I also enjoyed speaking with current students because I've always had such Laker pride!"
Switzer was among 7,000 Peace Corps workers worldwide to be returned home in March. Edwards said she is familiar with two other Mercyhurst alumni recalled, Heather Dougherty in Uganda and Natalia Joseph in Ukraine.
PHOTO: Maggie Switzer