Applause!
Thursday, April 08, 2021
Dr. Alexander Regina, assistant professor of marketing, was featured in WalletHub's piece about car insurance in Pennsylvania. You can find his recent contribution here. 
Dr. Alice Edwards, professor of Spanish, presented her paper, "Ghosts of the Post-Memory in La resta, by Alia Trabucco Zerán," at the Congreso Internacional de Literaturas Hispánicas, March 4-6. She also presented a paper titled "Activating Memory: The Digital Protest of Aquí by María José Contreras Lorenzini" at the 13th Annual Gender Conference at Penn State Behrend on March 25.
Dr. Maria L. Garase, associate professor of criminal justice, recently served on Zippia's The Career Experts panel on "Criminal Justice Job Market Trends for Aspiring Graduates." Panelists discussed the impact of the coronavirus pandemic on graduates, as well as the types of certifications/licenses/courses that can have the biggest impact on job prospects. You can see Dr. Garase's contributions to the panel here.
Senior Rachel Sallach, the first Mercyhurst student to sit for the Society for Human Resource Management Certified Professional exam, passed the exam on her first attempt and now is a designated SHRM-CP, one of the top Human Resource credentials recognized in the market today. Kimberly Zacherl, program director for the Human Resource Management major, announced recently that Mercyhurst's HR program was approved for renewal of alignment with the Society for Human Resource Management (SHRM) HR Curriculum through 2025, which allows students to apply for the SHRM certification exam sooner than students whose programs are not aligned with SHRM. "The certification process required hours of studying and preparing, but I had a solid foundation to build off of from my education at Mercyhurst and my internship experiences in Human Resources at MacLean-Fogg Component Solutions - Saegertown and currently at Country Fair, Inc.," Sallach said. "This preparation and ability to become certified before graduation positions me very well as a soon-to-be graduate entering the workforce."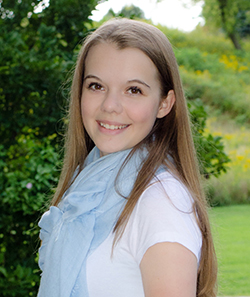 Allyson Schrimper-Minor attended the 2021 PCMA Convening Leaders Conference held virtually this year because of COVID. During the faculty workshop, Allyson was elected the faculty liaison for the 2022 cohort. She will serve as the direct contact between the Professional Convention Management Association and faculty members of participating universities on policies, procedures and involvement.
Dr. Sherez Mohamed, assistant professor of Spanish, was a guest on the Our Erie podcast, March 30, to discuss linguistics and the way language, culture, and society interact. She also talked about African American Vernacular English (AAVE) and its importance and acceptance as a variant of English. You can listen to the episode, titled "Linguistically Speaking ... Words Matter," here or wherever you get your podcasts.
Darci Jones, Director of University Libraries, recently served as a peer evaluator for the Middle States Commission on Higher Education in reviewing Point Park University's recently completed self-study process. She served as first chair on Standard II, Ethics and Integrity, and second chair on Standard IV, Support of the Student Experience. Due to COVID 19 restrictions, all visits to Point Park were virtual, and the team's final report was delivered virtually. Darci has been a volunteer peer evaluator with Middle States since 2015.  
Dr. Edward Jolie, assistant professor of anthropology, was interviewed for an Erie Reader story about "the ongoing issue Native Americans face of having to constantly remind others they are not mascots or peoples of the past." Read "More Than a Stereotype."